Oct
5
Stolen Lives
October 5, 2017
1:00 PM - 4:00 PM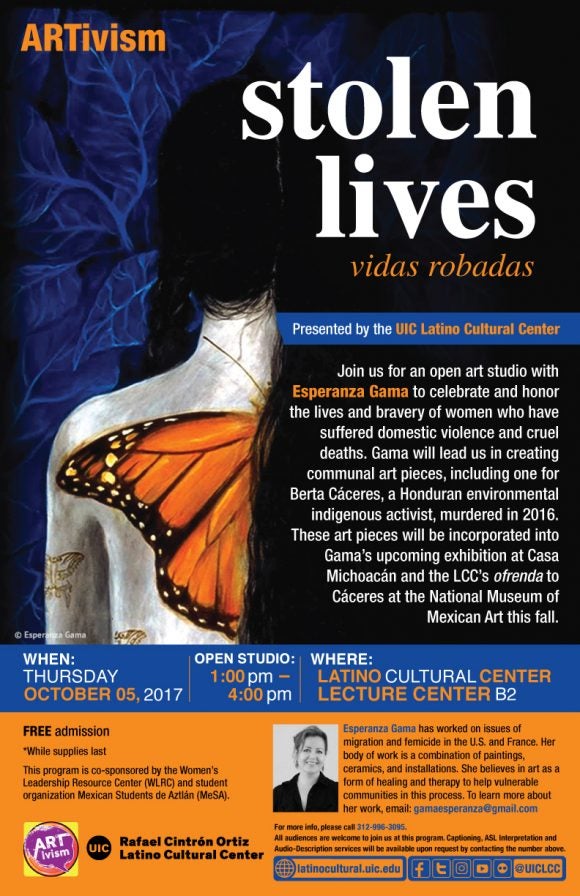 Presented by: UIC Latino Cultural Center
Join us for an open art studio with Esperanza Gama to celebrate and honor the lives and bravery of women who have suffered domestic violence and cruel deaths. Gama will lead us in creating communal art pieces, including one for Berta Cáceres, a Honduran environmental indigenous activist, murdered in 2016. These art pieces will be incorporated into Gama's upcoming exhibition at Casa Michoacán and the LCC's ofrenda to Cáceres at the National Museum of Mexican Art this fall.
Esperanza Gama has worked on issues of migration and femicide in the U.S. and France. Her body of work is a combination of paintings, ceramics, and installations. She believes in art as a form of healing and therapy to help vulnerable communities in this process. To learn more about her work, email: gamaesperanza@gmail.com
All audiences are welcome to join us at this program. Captioning, ASL Interpretation and Audio-Description services will be available upon request by contacting us.
Poster: Stolen Lives [PDF]
Admissions: Free
Location: 803 S. Morgan St. LCB2 Chicago, IL 60607
Co-sponsors: Women's Leadership & Resource Center
Contact
Jocelyn Munguia Chavez
3129963095
Date updated
Jun 26, 2018