LCC affiliated student organization resources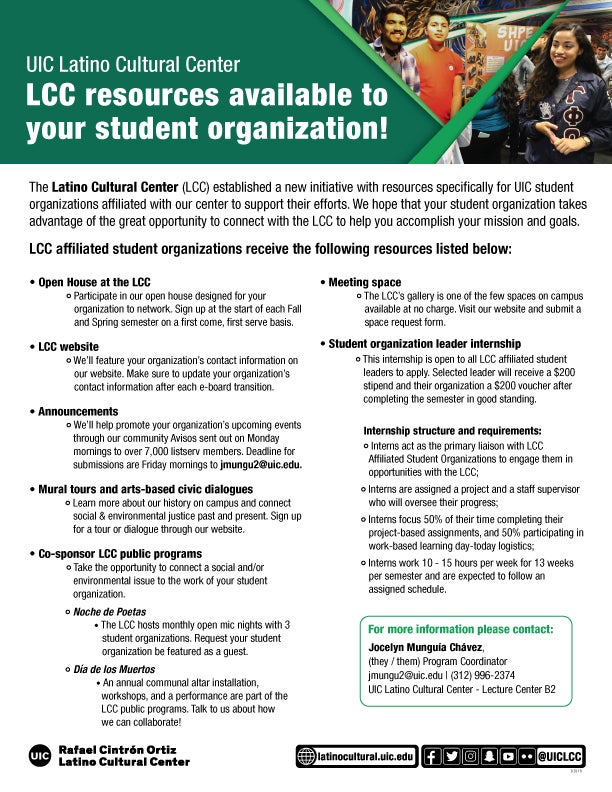 Download [PDF] poster HERE
LCC affiliated student organizations receive the following resources listed below:
• Open House at the LCC
Participate in our open house designed for your organization to network. Sign up at the start of each Fall and Spring semester on a first come, first serve basis.
• LCC website
We'll feature your organization's contact information on our website. Make sure to update your organization's contact information after each e-board transition.
• Announcements
We'll help promote your organization's upcoming events through our community Avisos sent out on Monday mornings to over 7,000 listserv members. Deadline for submissions are Friday mornings to jmungu2@uic.edu.
• Mural tours and arts-based civic dialogues
Learn more about our history on campus and connect social & environmental justice past and present. Sign up for a tour or dialogue through our website.
• Co-sponsor LCC public programs
Take the opportunity to connect a social and/or environmental issue to the work of your student organization.
Noche de Poetas
• The LCC hosts monthly open mic nights with 3 student organizations. Request your student organization be featured as a guest.
Día de los Muertos
• An annual communal altar installation, workshops, and a performance are part of the LCC public programs. Talk to us about how we can collaborate!
• Meeting space
The LCC's gallery is one of the few spaces on campus available at no charge. Visit our website and submit a space request form.
• Student organization leader internship
This internship is open to all LCC affiliated student leaders to apply. Selected leader will receive a $200 stipend and their organization a $200 voucher after completing the semester in good standing.
Internship structure and requirements:
Interns act as the primary liaison with LCC Affiliated Student Organizations to engage them in opportunities with the LCC;
Interns are assigned a project and a staff supervisor who will oversee their progress;
Interns focus 50% of their time completing their project-based assignments, and 50% participating in work-based learning day-today logistics;
Interns work 10 - 15 hours per week for 13 weeks per semester and are expected to follow an assigned schedule.