Apr
2
19 and a Day: The Life and Times of Jeff Abbey Maldonado, Jr.
April 2, 2013
3:30 PM - 5:00 PM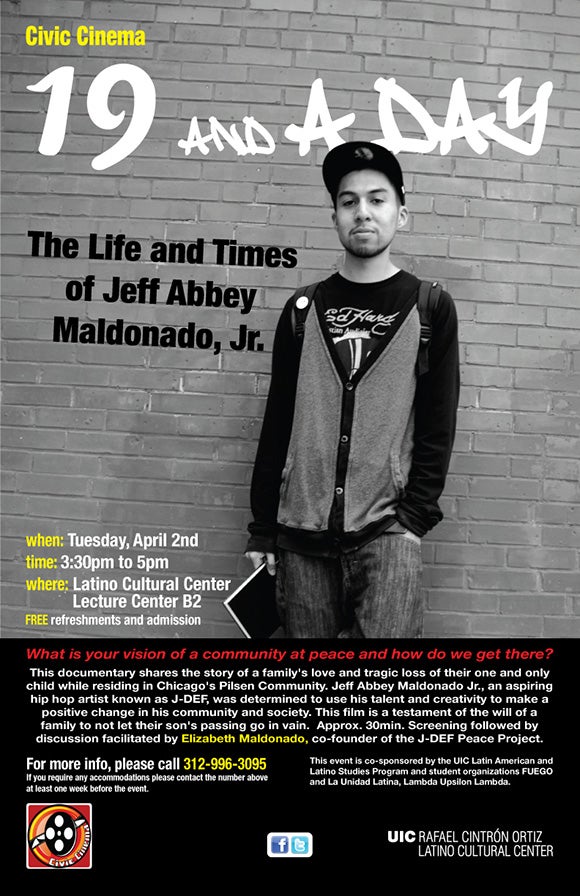 Presented by: UIC Latino Cultural Center
What is your vision of a community at peace and how do we get there?
This documentary shares the story of a family's love and tragic loss of their one and only child while residing in Chicago's Pilsen Community. Jeff Abbey Maldonado Jr., an aspiring hip hop artist known as J-DEF, was determined to use his talent and creativity to make a positive change in his community and society. This film is a testament of the will of a family to not let their son's passing go in vain.
Screening followed by discussion facilitated by Elizabeth Maldonado, co-founder of the J-DEF Peace Project.
If you require any accommodations please contact us at least three days before the event.
Poster: 19 and a Day: The Life and Times of Jeff Abbey Maldonado, Jr. [PDF]
Admissions: Free
Location: 803 S. Morgan St. LCB2 Chicago, IL 60607
Co-sponsors: UIC Latin American and Latino Studies Program and student organizations FUEGO and La Unidad Latina, Lambda Upsilon Lambda
Contact
Mario Lucero
3129963095
Date updated
Jun 14, 2018