Apr
17
Earth Week Celebration at the LCC
April 17, 2017
3:00 PM - 3:30 PM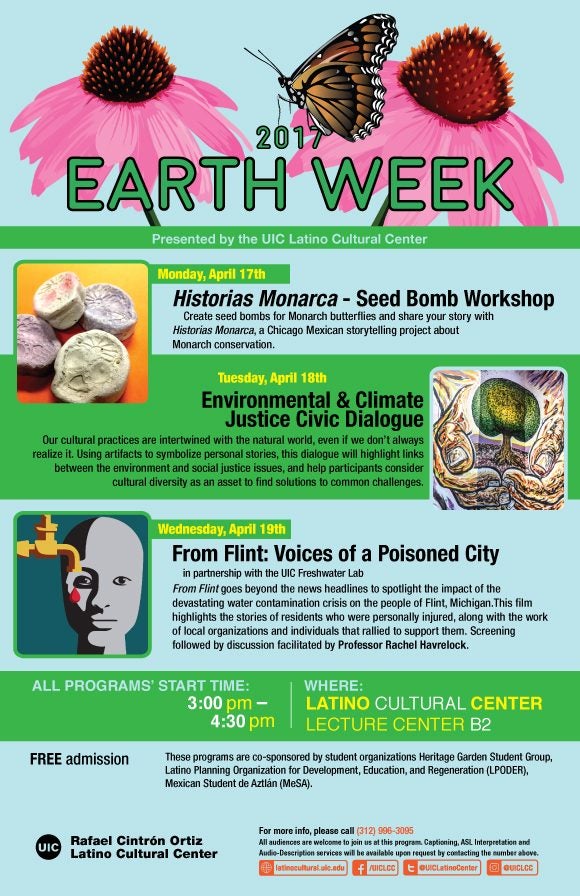 Presented by: UIC Latino Cultural Center
Monday, April 17, 2017 | 3pm-4pm– Create seed bombs for Monarch butterflies and share your story with Historias Monarca, a Chicago Mexican storytelling project about Monarch conservation.
SAVE THE DATES:
Tuesday, April 18th | 3pm-4:30pm (Environmental & Climate Justice Civic Dialogue) – Our cultural practices are intertwined with the natural world, even if we don't always realize it. Using artifacts to symbolize personal stories, this dialogue will highlight links between the environment and social justice issues, and help participants consider cultural diversity as an asset to find solutions to common challenges.
Wednesday, April 19th | 3pm-4:30pm (From Flint: Voices of a Poisoned City in partnership with the UIC Freshwater Lab) – From Flint goes beyond the news headlines to spotlight the impact of the devastating water contamination crisis on the people of Flint, Michigan.This film highlights the stories of residents who were personally injured, along with the work of local organizations and individuals that rallied to support them. Screening followed by discussion facilitated by Professor Rachel Havrelock.
All audiences are welcome to join us at these programs. Captioning, ASL Interpretation and Audio-Description services will be available upon request by contacting us.
Poster: Earth Week 2017 [PDF]
Admissions: Free
Location: 803 S. Morgan St. LCB2 Chicago, IL 60607
Co-sponsors: Heritage Garden Student Group, Latino Planning Organization for Development, Education, and Regeneration (LPODER), and Mexican Student de Aztlán (MeSA)
Contact
Mario Lucero
3129963095
Date updated
Jul 17, 2018