Apr
21
2014
Garden, Beauty, & Identities: A Soap-Making Workshop
April 21, 2014
12:00 PM - 1:30 PM
Location
Latino Cultural Center, Lecture Center B2
Address
803 S. Morgan St., Chicago, IL 60607
Download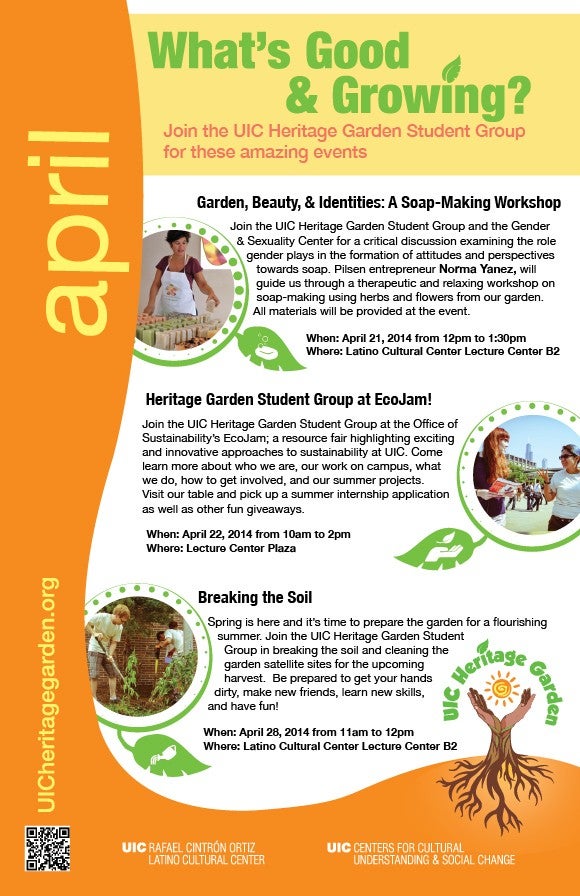 Presented by the UIC Heritage Garden Student Group and Gender & Sexuality Center
Join the UIC Heritage Garden Student Group and the Gender & Sexuality Center for a critical discussion examining the role gender plays in the formation of attitudes and perspectives towards soap. Pilsen entrepreneur Norma Yanez, will guide us through a therapeutic and relaxing workshop on soap-making using herbs and flowers from our garden. All materials will be provided at the event.
Heritage Garden Student Group at EcoJam!
Join the UIC Heritage Garden Student Group at the Office of Sustainability's EcoJam; a resource fair highlighting exciting and innovative approaches to sustainability at UIC. Come learn more about who we are, our work on campus, what we do, how to get involved, and our summer projects. Visit our table and pick up a summer internship application as well as other fun giveaways.
When: April 22, 2014 from 10am to 2pm
Where: Lecture Center Plaza
If you require any accommodations please contact us at least three days before the event.
Co-sponsors: UIC Latino Cultural Center, and the Centers for Cultural Understanding and Social Change
Date updated
Apr 14, 2020