Apr
14
IGNITE Spring 2018 Mural Tours
April 14, 2018
12:00 PM - 2:00 PM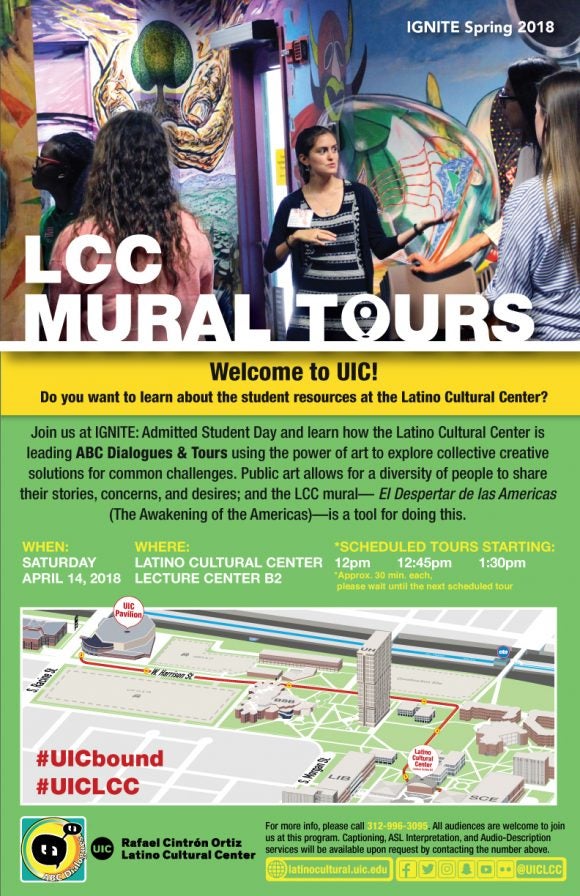 Presented by: UIC Latino Cultural Center
Welcome to UIC! Do you want to learn more about the student resources at the Latino Cultural Center?
Join us at IGNITE: Admitted Student Day and learn how the Latino Cultural enter is leading ABC Dialogues & Tours using the power of art to explore collective creative solutions for common challenges. Public art allows for a diversity of people to share their stories, concerns, and desires; and the LCC mural – El Despertar de las Américas (The Awakening of the Americas) – is a tool for doing this.
All audiences are welcome to join us at this program. Captioning, ASL Interpretation, and Audio-Description services will be available upon request by contacting the number above.
Poster:  IGNITE Mural Tours Spring 2018 [PDF]
Admissions: Free
Location: 803 S. Morgan St. LCB2 Chicago, IL 60607
Contact
Edith Tovar
3129963095
Date updated
Jul 23, 2018