Jan
18
#J18 Mobilizing with Art for Social Transformation
January 18, 2017
10:00 AM - 4:00 PM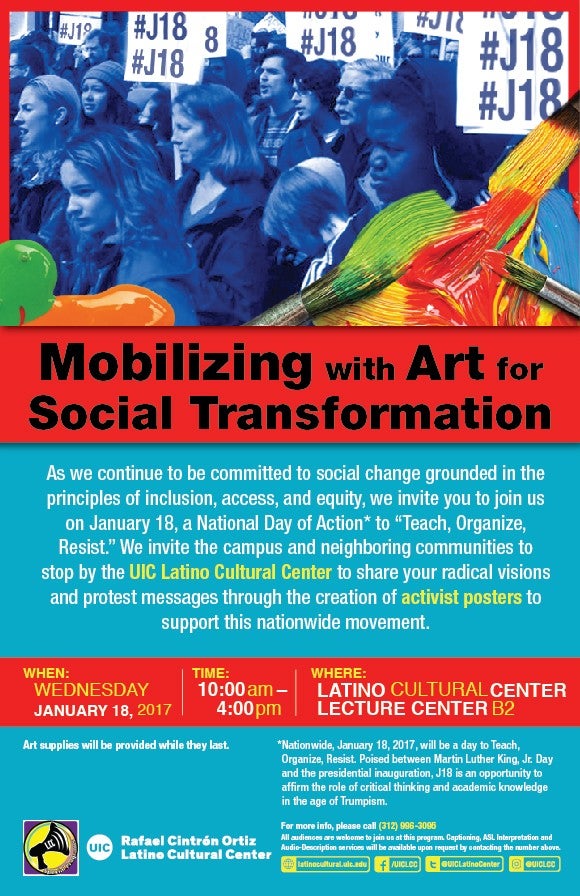 Presented by: UIC Latino Cultural Center
As we continue to be committed to social change grounded in the principles of inclusion, access, and equity, we invite you to join us on January 18, a National Day of Action to "Teach, Organize, Resist". We invite the campus and neighboring communities to stop by the UIC Latino Cultural Center to share your visions and protest messages through the creation of activist posters to support this nationwide movement.
Art supplies will be provided while they last.
*Nationwide, January 18, 2017, will be a day to Teach, Organize, Resist. Poised between Martin Luther King, Jr. Day and the presidential inauguration, J18 is an opportunity to affirm the role of critical thinking and academic knowledge in the age of Trumpism.
All audiences are welcome to join us at this event. Captioning, ASL Interpretation and Audio-Description services will be available upon request by contacting us.
Poster: #J18 Mobilizing with Art [PDF]
Admissions: Free
Location: 803 S. Morgan St. LCB2 Chicago, IL 60607
Contact
Mario Lucero
3129963095
Date updated
Jul 17, 2018