Mar
28
Know Your Rights! Beyond the Legal Framework
March 28, 2017
12:00 PM - 1:30 PM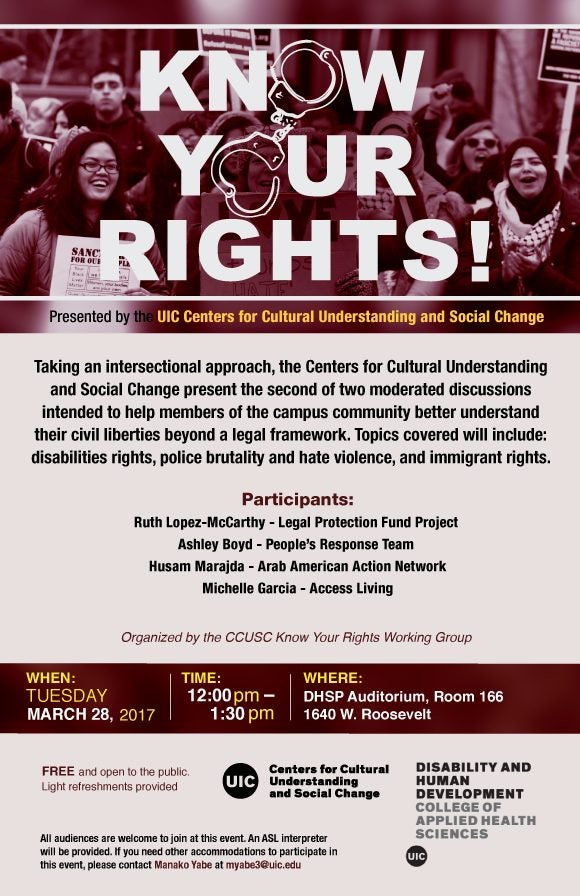 Presented by: UIC Centers for Cultural Understanding and Social Change
Taking an intersectional approach, the Centers for Cultural Understanding and Social Change present the second of two moderated discussions intended to help members of the campus community better understand their civil liberties beyond a legal framework. Topics covered will include: disability rights, police brutality and hate violence, and immigrant rights.
Participants:
Ruth Lopez-McCarthy – Legal Protection Fund Project
Ashley Boyd – People's Response Team
Husam Marajda – Arab American Action Network
Michelle Garcia – Access Living
Organized by the CCUSC Know Your Rights Working Group
All audiences are welcome to join at this event. An ASL interpreter will be provided. If you need other accommodations to participate in this event, please contact Manako Yabe atmyabe3@uic.edu.
Poster: Know Your Rights! Beyond the Legal Framework [PDF]
Admissions: Free
Location: 803 S. Morgan St. LCB2 Chicago, IL 60607
Co-sponsors: UIC Disability and Human Development
Contact
Lena G. Reynolds
3129963095
Date updated
Jul 17, 2018