Jan
31
LCC Affiliated Student Organizations Open House – Spring 2018
January 31, 2018
12:00 PM - 2:00 PM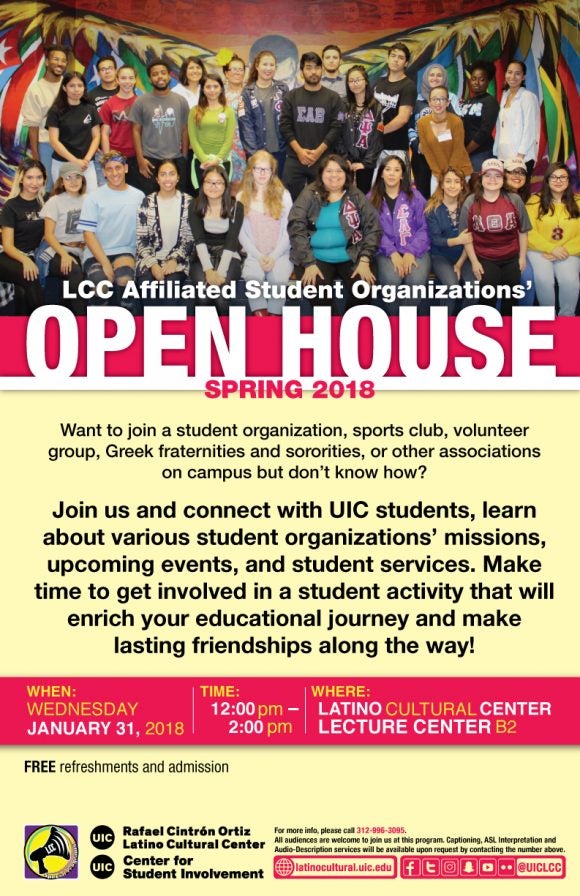 Presented by: UIC Latino Cultural Center and the Center for Student Involvement
Want to join a student organization, sports club, volunteer group, Greek fraternities and sororities, or other associations on campus but don't know how?
Join us and connect with UIC students, learn about various student organizations' missions, upcoming events, and student services. Make time to get involved in a student activity that will enrich your educational journey and make lasting friendships along the way!
FREE refreshments and admission
All audiences are welcome to join us at this program. Captioning, ASL Interpretation and Audio-Description services will be available upon request by contacting the number above.
Poster: Affiliated Student Org Open House Spring 2018 [pdf]
Admissions: Free
Location: 803 S. Morgan St. LCB2 Chicago, IL 60607
Co-sponsors:
Contact
Edith Tovar
3129963095
Date updated
Jul 18, 2018