Sep
24
LCC Mural & Heritage Garden Tours – UIC Open House 2016
September 24, 2016
10:00 AM - 12:30 PM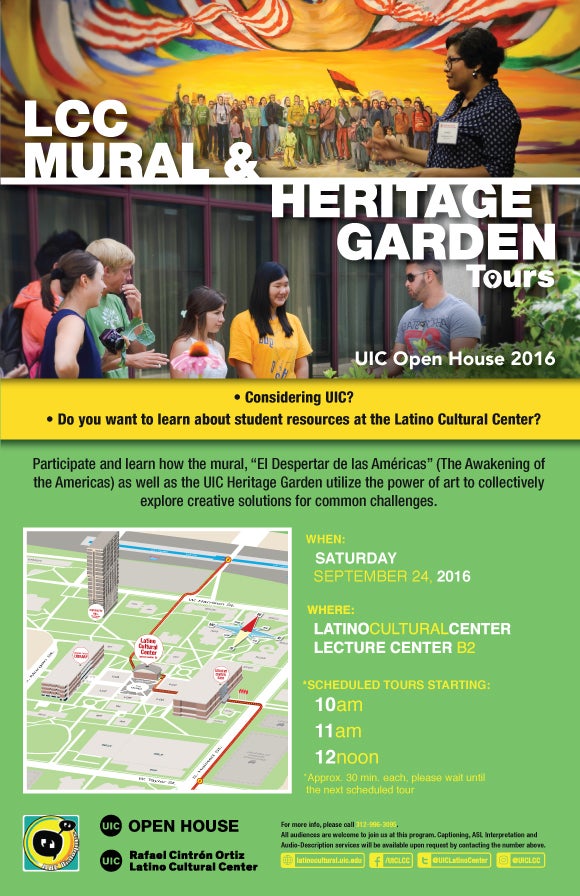 Presented by: UIC Latino Cultural Center
Do you want to learn about the student resources at the Latino Cultural Center?
Considering UIC?
Participate and learn how the mural, "El Despertar de las Américas" (The Awakening of the Americas) as well as the UIC Heritage Garden utilize the power of art to collectively explore creative solutions for common challenges.
*Scheduled Tours starting:
*Approx. 30 min. each, please wait until the next scheduled tour
All audiences are welcome to join us at this program. Captioning, ASL Interpretation and Audio­ Description services will be available upon request by contacting us.
Poster: LCC Mural & Heritage Garden Tours – UIC Open House 2016 [PDF]
Admissions: Free
Location: 803 S. Morgan St. LCB2 Chicago, IL 60607
Contact
Edith Tovar
3129963095
Date updated
Jul 17, 2018