Aug
3
2014
Migration, Arts & Story Time
August 3, 2014
12:00 PM - 4:00 PM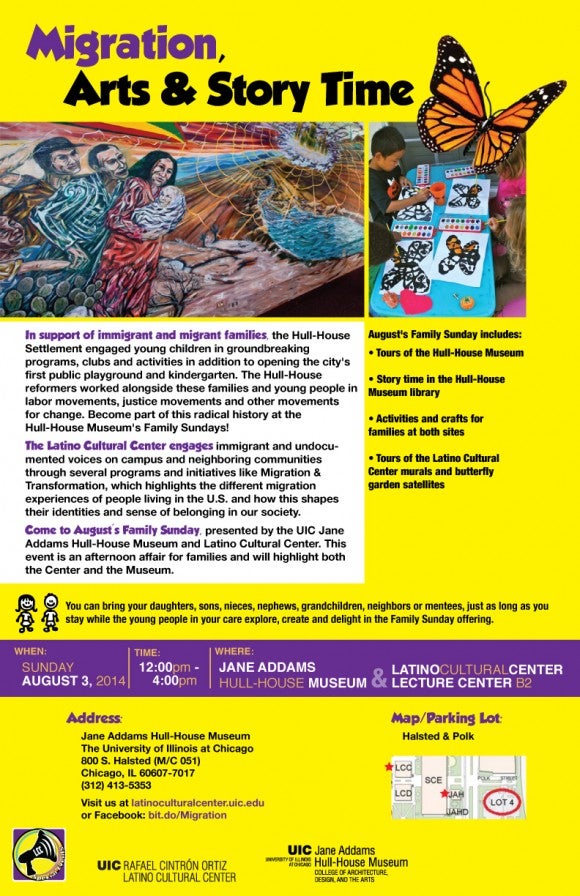 Presented by: UIC Jane Addams Hull-House Museum and Latino Cultural Center
In support of immigrant and migrant families, the Hull-House Settlement engaged young children in groundbreaking programs, clubs and activities in addition to opening the city's first public playground and kindergarten. The Hull-House reformers worked alongside these families and young people in labor movements, justice movements and other movements for change. Become part of this radical history at the Hull-House Museum's Family Sundays!
The Latino Cultural Center engages immigrant and undocumented voices on campus and neighboring communities through several programs and initiatives like Migration & Transformation, which highlights the different migration experiences of people living in the U.S. and how this shapes their identities and sense of belonging in our society.
Come to August's Family Sunday, presented by the UIC Jane Addams Hull-House Museum and Latino Cultural Center. This event is an afternoon affair for families and will highlight both the Center and the Museum.
August's Family Sunday includes:
• Tours of the Hull-House Museum
• Story time in the Hull-House Museum library
• Activities and crafts for families at both sites
• Tours of the Latino Cultural Center murals and butterfly garden satellites
You can bring your daughters, sons, nieces, nephews, grandchildren, neighbors or mentees, just as long as you stay while the young people in your care explore, create and delight in the Family Sunday offering.
If you require any accommodations please contact us at least three days before the event.
Poster: Migration, Arts & Story Time [PDF]
Admissions: Free
Location: 803 S. Morgan St. LCB2 Chicago, IL 60607
Co-sponsors
Date updated
Jul 11, 2018