Aug
26
Open House – Fall 2015
August 26, 2015
12:00 PM - 3:00 PM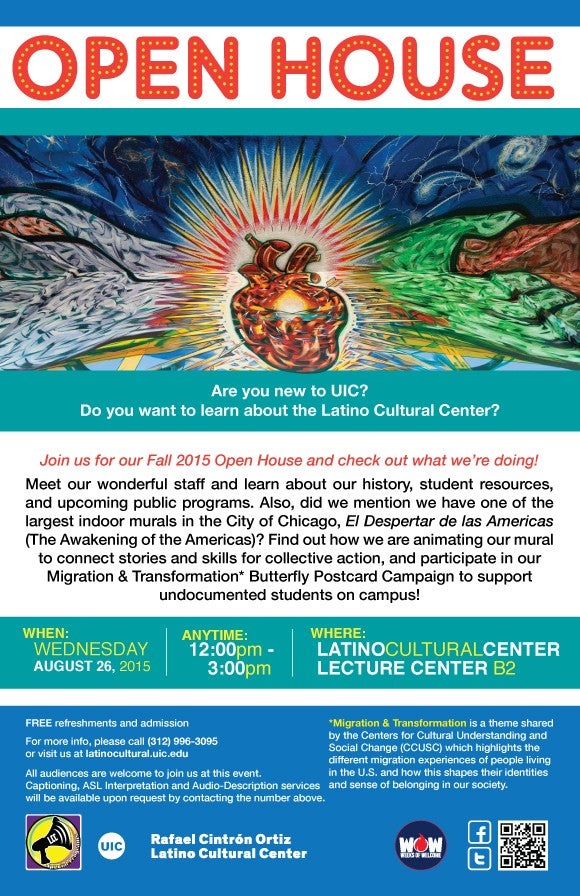 Presented by: UIC Latino Cultural Center
Are you new to UIC?
Do you want to learn about the Latino Cultural Center?
Join us for our Fall 2015 Open House and check out what we're doing!
Meet our wonderful staff and learn about our history, student resources, and upcoming public programs. Also, did we mention we have one of the largest indoor murals in the City of Chicago, El Despertar de las Americas (The Awakening of the Americas)? Find out how we are animating our mural to connect stories and skills for collective action, and participate in our Migration & Transformation* Butterfly Postcard Campaign to support undocumented students on campus!
*Migration & Transformation is a theme shared by the Centers for Cultural Understanding and Social Change (CCUSC) which highlights the different migration experiences of people living in the U.S. and how this shapes their identities and sense of belonging in our society.
All audiences are welcome to join us at this event. Captioning, ASL Interpretation and Audio-Description services will be available upon request by contacting us.
Poster: Open House – Fall 2015 [PDF]
Admissions: Free
Location: 803 S. Morgan St. LCB2 Chicago, IL 60607
Co-sponsors: 
Contact
Mario Lucero
3129963095
Date updated
Jul 16, 2018