Jan
14
2015
Open House – Spring 2015
January 14, 2015
12:00 PM - 3:00 PM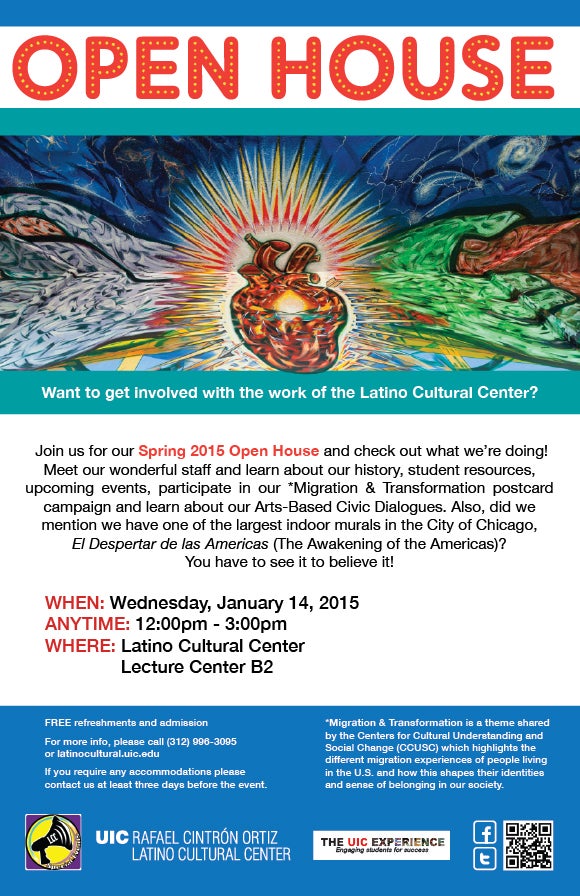 Presented by: UIC Latino Cultural Center
Join us for our Spring 2015 Open House and check out what we're doing! Meet our wonderful staff and learn about our history, student resources, upcoming events, participate in our *Migration & Transformation postcard campaign and learn about our Arts-Based Civic Dialogues. Also, did we mention we have one of the largest indoor murals in the City of Chicago, El Despertar de las Americas (The Awakening of the Americas)? You have to see it to believe it!
*Migration & Transformation is a theme shared by the Centers for Cultural Understanding and Social Change (CCUSC) which highlights the different migration experiences of people living in the U.S. and how this shapes their identities and sense of belonging in our society.
If you require any accommodations please contact us at least three days before the event.
Poster: Open House – Spring 2015 [PDF]
Admissions: Free
Location: 803 S. Morgan St. LCB2 Chicago, IL 60607
Co-Sponsors
Date updated
Jul 11, 2018