Nov
30
Save Sex Civic Dialogue: Protect Access to Sexual Health Products & Services
November 30, 2016
2:00 PM - 3:30 PM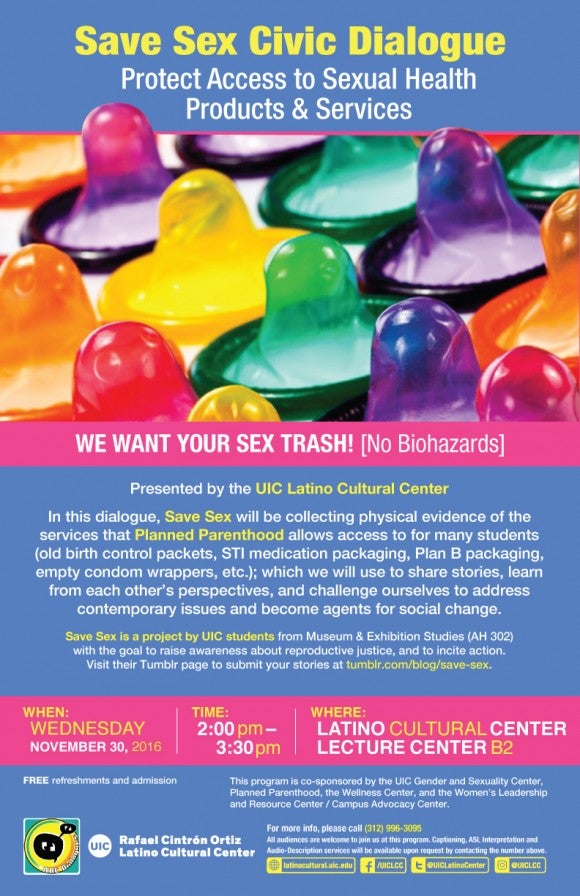 Presented by: UIC Latino Cultural Center
WE WANT YOUR SEX TRASH! [No Biohazards]
In this dialogue, Save Sex will be collecting physical evidence of the services that Planned Parenthood allows access to for many students (old birth control packets, STI medication packaging, Plan B packaging, empty condom wrappers, etc.); which we will use to share stories, learn from each other's perspectives, and challenge ourselves to address contemporary issues and become agents for social change.
Save Sex is a project by UIC students from Museum & Exhibition Studies (AH 302) with the goal to raise awareness about reproductive justice, and to incite action. Visit their Tumblr page to submit your stories at www.tumblr.com/blog/save-sex.
All audiences are welcome to join us at this program. Captioning, ASL Interpretation and Audio-Description services will be available upon request by contacting us.
Poster: Save Sex Civic Dialogue [PDF]
Admissions: Free
Location: 803 S. Morgan St. LCB2 Chicago, IL 60607
Co-sponsors: UIC Gender and Sexuality Center, Planned Parenthood, the Wellness Center, and the Women's Leadership and Resource Center / Campus Advocacy Center
Contact
Mario Lucero
3129963095
Date updated
Jul 23, 2018