Feb
23
Spaces for Wellness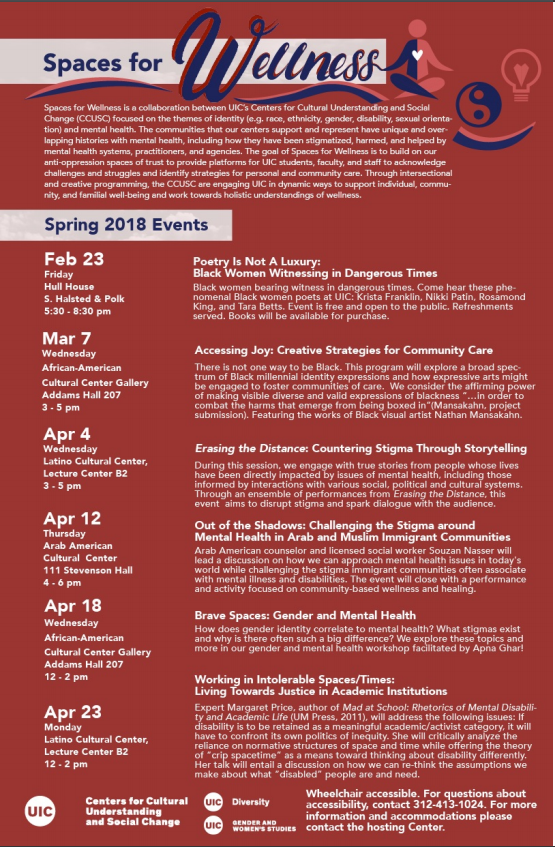 Presented by: the Centers for Cultural Understanding and Social Change
Spaces for Wellness is a collaboration between UIC's Centers for Cultural Understanding and Social Change (CCUSC) focused on the themes of identity (e.g. race, ethnicity, gender, disability, sexual orientation) and mental health. The communities that our centers support and represent have unique and overlapping histories with mental health, including how they have been stigmatized, harmed, and helped by mental health systems, practitioners, and agencies. The goal of Spaces for Wellness is to build on our anti-oppression spaces of trust to provide platforms for UIC students, faculty, and staff to acknowledge challenges and struggles and identify strategies for personal and community care. Through intersectional and creative programming, the CCUSC are engaging UIC in dynamic ways to support individual, community, and familial well-being and work towards holistic understandings of wellness.
Feb 23, Friday
Hull House – S. Halsted & Polk (5:30 – 8:30 pm)
Poetry Is Not A Luxury: Black Women Witnessing in Dangerous Times
Black women bearing witness in dangerous times. Come hear these phenomenal Black women poets at UIC: Krista Franklin, Nikki Patin, Rosamond King, and Tara Betts. Event is free and open to the public. Refreshments served. Books will be available for purchase.
Mar 7, Wednesday
African-American Cultural Center Gallery – Addams Hall 207 (3 – 5 pm)
Accessing Joy: Creative Strategies for Community Care
There is not one way to be Black. This program will explore a broad spectrum of Black millennial identity expressions and how expressive arts might be engaged to foster communities of care. We consider the affirming power of making visible diverse and valid expressions of blackness "…in order to combat the harms that emerge from being boxed in"(Mansakahn, project submission). Featuring the works of Black visual artist Nathan Mansakahn.
Apr 4, Wednesday
Latino Cultural Center, Lecture Center B2 (3 – 5 pm)
Erasing the Distance: Countering Stigma Through Storytelling
During this session, we engage with true stories from people whose lives have been directly impacted by issues of mental health, including those informed by interactions with various social, political and cultural systems. Through an ensemble of performances from Erasing the Distance, this event aims to disrupt stigma and spark dialogue with the audience.
Apr 12, Thursday
Arab American Cultural Center – 111 Stevenson Hall (4 – 6 pm)
Out of the Shadows: Challenging the Stigma around Mental Health in Arab and Muslim Immigrant Communities
Arab American counselor and licensed social worker Souzan Nasser will lead a discussion on how we can approach mental health issues in today's world while challenging the stigma immigrant communities often associate with mental illness and disabilities. The event will close with a performance and activity focused on community-based wellness and healing.
Apr 18, Wednesday
African-American Cultural Center Gallery – Addams Hall 207 (12 – 2 pm)
Brave Spaces: Gender and Mental Health
How does gender identity correlate to mental health? What stigmas exist and why is there often such a big difference? We explore these topics and more in our gender and mental health workshop facilitated by Apna Ghar!
Apr 23, Monday
LOCATION TBA (12 pm)
Working in Intolerable Spaces/Times: Living Towards Justice in Academic Institutions
Expert Margaret Price, author of Mad at School: Rhetorics of Mental Disability and Academic Life (UM Press, 2011), will address the following issues: If disability is to be retained as a meaningful academic/activist category, it will have to confront its own politics of inequity. She will critically analyze the reliance on normative structures of space and time while offering the theory of "crip spacetime" as a means toward thinking about disability differently. Her talk will entail a discussion on how we can rethink the assumptions we make about what "disabled" people are and need.
Wheelchair accessible. For questions about accessibility, contact 312-413-1024. For more information and accommodations please contact the hosting Center.
Poster: Spaces for Wellness [pdf]
Admissions: Free
Location: 803 S. Morgan St. LCB2 Chicago, IL 60607
Co-sponsors:UIC Office of Diversity, UIC Gender and Women's Studies Program
Date updated
Jul 18, 2018