Nov
16
2017
Theater of the Oppressed: Unpacking the Im/migrant Journey
November 16, 2017
3:30 PM - 5:30 PM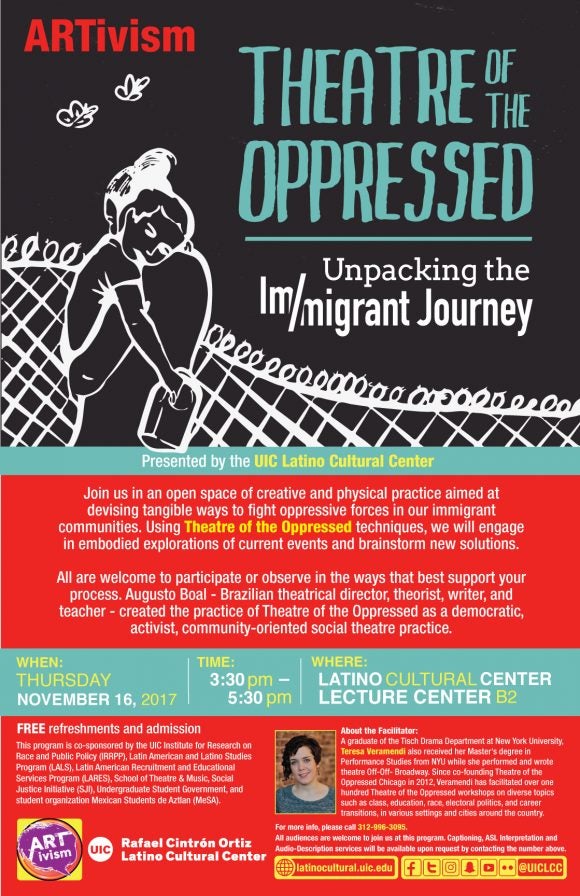 Presented by: UIC Latino Cultural Center
Join us in an open space of creative and physical practice aimed and devising tangible ways to fight oppressive forces in our immigrant communities. Using Theatre of the Oppressedtactics, we will engage in embodied explorations of current events and brainstorm new solutions.
All are welcome to participate or observe in the ways that best support your process. Augusto Boal – Brazilian theatrical director, theorist, writer, and teacher – created the practice of Theatre of the Oppressed as a dramatic, activist, community-oriented social theatre practice.
Free admission and refreshments!
About the Facilitator – A graduate of the Tisch Drama Department at New York University, Teresa Veramendi also received her Master's degree in Performance Studies from NYU while she performed and wrote Theatre Off-Off- Broadway. Since co-founding Theatre of the Oppressed Chicago in 2012, Veramendi has facilitated over one hundred Theatre of the Oppressed workshops on diverse topics such as class, education, race, electoral politics, and career transitions, in various settings and cities around the country
All audiences are welcome to join us at this program. Captioning, ASL Interpretation, and Audio-Description services will be available upon request by contacting the number above.
Poster: Theatre of the Oppressed [PDF]
Admissions: Free
Location: 803 S. Morgan St. LCB2 Chicago, IL 60607
Co-sponsors: UIC Institute for Research on Race and Public Policy (IRRPP), Latin American and Latino Studies Program (LALS), Latin American Recruitment and Educational Services Program (LARES), the School of Theatre & Music, the Social Justice Initiative (SJI), Undergraduate Student Government, and student organization Mexican Students de Aztlan (MeSA).
Date updated
Jun 26, 2018