MOSAIC 2018 Celebrates Rosa Cabrera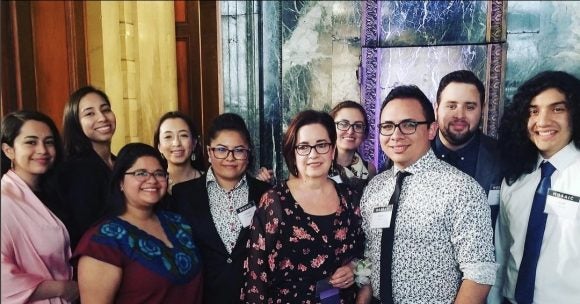 This past Tuesday, May 1st, 2018 was a night of celebration as the Chicago Cultural Alliance (CCA) held its 10th Anniversary Gala Benefit, MOSAIC. The event, which took place at the Chicago Cultural Center, focused on honoring the CCA's legacy and recognizing the region's cultural leaders while looking forward to the next generation of cultural advocates.
The program featured ABC7's Judy Hsu as Emcee, a dinner prepared by Chef Julius Russell, and performances by Chicago Dance Crash, musician Subhiand Native American Youth from the American Indian Education Program.
The evening also included awards of recognition being given to cultural leaders in Chicago including Outstanding Community Leaders: Jean Mishima, President of the Japanese American Historical Society, and Lydia Tkaczuk, President of the Ukrainian National Museum, as well as the 2018 Cultural Champions: Alaka Wali, Curator of North American Anthropology in the Science and Education Division of the Field Museum and Rosa Cabrera, Director of the Latino Cultural Center (LCC) and co-founder of the Chicago Cultural Alliance.
The LCC staff was also in attendance to support and celebrate Rosa Cabrera and is proud to have an outstanding and influential cultural agent as our leader.
To view the 2018 Cultural Champions video featuring Rosa Cabrera and Alaka Wali, see below:
Modified on August 16, 2018