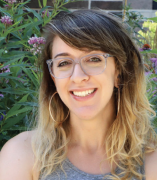 Sarah G. Hernandez
Graduate Research Assistant
Summer 2013 - Fall 2018
About
Sarah Gabriella Hernandez has been with the LCC since 2013, working with the UIC Heritage Garden internship program, which is an experiential learning initiative for UIC undergraduates that, through multiple methods, highlights the connection between environmental sustainability, cultural diversity, and social justice.
Sarah was a PhD candidate in the Community and Prevention Research program in the Department of Psychology and her interests broadly include community-based participatory research, program evaluation, community health assessment, knowledge translation and dissemination, urban agriculture in health promotion, and environmental justice. Along with her work at the LCC, Sarah has been an active leader in the Little Village Community Health Assessment (LVCHA), which is an academic-community collaborative research effort to promote health equity in the Little Village community. Through varying community-based research and evaluation projects during her time at UIC, Sarah focuses on creating and sustaining collaborative engagement processes between diverse communities and academic stakeholders in project development, implementation, dissemination, action, and evaluation.
Sarah was born and raised in South Florida among both Cuban and Puerto-Rican families. She thinks of Chicago as her second home, and cherishes all the family she's made through generations of Heritage Gardeners.