L@s GANAS
Engaged learning community in cultural dialogue
The Latino Cultural Center (LCC) lends its expertise to connect science and Latin American heritages to help UIC STEM students shape their identity as Latinx scientists.
The Latin@s Gaining Access to Networks for Advancement in Science (L@S GANAS) program at the University of Illinois at Chicago was created through a Hispanic Serving Institution STEM grant from the US Department of Education. UIC is one of a handful of research intensive universities to achieve Hispanic Serving Institution (HSI) status. Below is a list of the ways in which you can be part of L@s GANAS:
L@S GANAS is a multifaceted program at UIC that focuses on the recruitment, retention, and graduation of Latinx students in the fields of STEM (Science, Technology, Engineering, and Math). It was established out of the HSI STEM grant from the US Department of Education. While the program is open to all STEM students, there is a focus on Biological Science, Biochemistry, Neuroscience, and Chemistry, as majors with high rates of Latinx entrance, but low graduation. L@s GANAS includes transition coaching, peer mentoring, campus partnerships, peer leaders, research fellowships, cultural dialogues, field trips, public programs, and more!
Research fellows attend dialogues at the LCC throughout their fellowship, to build community and discuss ways their cultural heritage connects with scientific studies and future careers.
CONGRATS L@S GANAS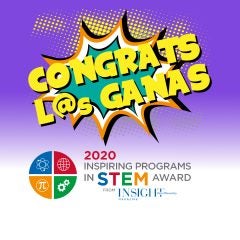 The University of Illinois Chicago's L@s GANAS (Latin@s Gaining Access to Networks for Advancement in Science initiative) has been named a recipient of INSIGHT Into Diversity magazine's 2020 Inspiring Programs in STEM Award. Read More »
Connecting science with cultural heritage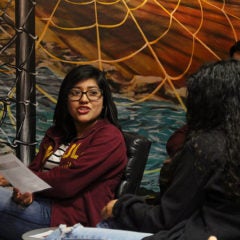 Connecting science with cultural heritage

"The struggles that people of color have gone through to take part in scientific advancement are impressive and made me not want to give up on my own pursuits." – L@s GANAS fellow

"I've learned that my peers face similar academic and inter-generational struggles that I do, and that approaching these struggles from a different perspective can offer better solutions to these problems." – L@s GANAS fellow