LCC Resources for UIC student organizations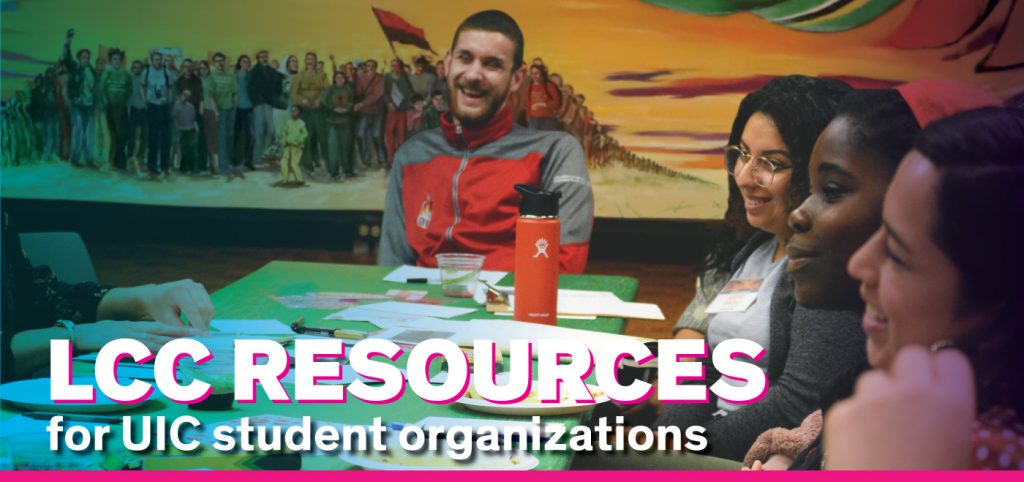 The UIC Latino Cultural Center (LCC) offers a variety of resources specifically for UIC student organizations affiliated with our center to support their missions and goals.
Resources include:
• Open House at the LCC: Participate in our open house designed for your organization to network. Sign up at the start of each Fall and Spring semester.
• Mural Tours and Arts-Based Civic Dialogues: Sign up for a tour or dialogue through our website. Learn more about our history on campus and connect social & environmental justice past and present.
• LCC website: Update your organization's contact information after each e-board transition to be featured on our website.
• Co-sponsor LCC public programs: Connect a social and/or environmental issue to the work of your student organization.
• Noche de Poetas Request for your student organization to be featured as a guest. The LCC hosts monthly open mic nights with 3 student organizations.
• Día de los Muertos Talk to us about how we can collaborate! We host annual communal altar installation, workshops, and storytelling/ performance during this weeklong celebration.
• Announcements: Share your organization's upcoming events through our community Avisos, that we send on Monday morning to over 7,000 listserv members. Deadline for submissions are Friday mornings.
• Meeting space: Visit our website and submit a space request form. The LCC's gallery is one of the few spaces on campus available at no charge.
• Student organization leader internship: Apply now to the Lead. Create. Change. Internship Program! As part of this program we reserve a spot for an organization leader. This internship is open to all LCC affiliated student leaders. Selected leader will receive compensation after completing the semester in good standing. For more information and to apply please visit our website: latinocultural.uic.edu/lcc-org-internship
Poster: LCC Resources for UIC Student Orgs
To Sign up or for more information please contact:
Jocelyn Munguía Chávez (they / them) Program Coordinator
UIC Latino Cultural Center - Lecture Center B2
jmungu2@uic.edu | (312) 996-2374