Feb
13
A People's Tour: Architecture and Activism at UIC
February 13, 2018
3:00 PM - 12:00 AM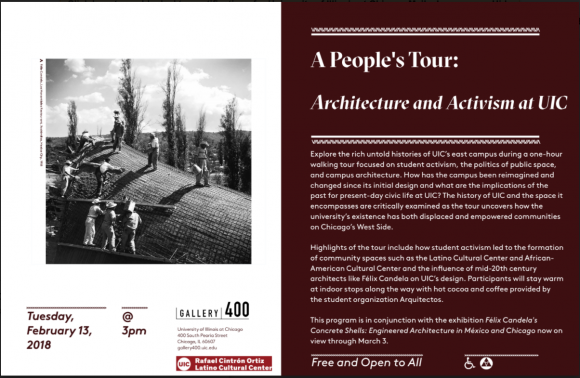 Presented by: UIC Latino Cultural Center and Gallery 400
Explore the rich untold histories of UIC's east campus during a one-hour walking tour focused on student activism, the politics of public space, and campus architecture. How has the campus been reimagined and changed since its initial design and what are the implications of the past for present-day civic life at UIC? The history of UIC and the space it encompasses are critically examined as the tour uncovers how the university's existence has both displaced and empowered communities on Chicago's West Side.
Highlights of the tour include how student activism led to the formation of community spaces such as the Latino Cultural Center and African-American Cultural Center and the influence of mid-20th century architects like Félix Candela on UIC's design. Participants will stay warm at indoor stops along the way with hot cocoa and coffee provided by the student organization Arquitectos. Dress warm and wear comfortable shoes!
FREE refreshments and admission
This program is in conjunction with the exhibition Félix Candela's Concrete Shells: Engineered Architecture in México and Chicago now on view through March 3.
All audiences are welcome to join us at this program. Captioning, ASL Interpretation, and Audio-Description services will be available upon request by contacting the number below. All buildings are wheelchair accessible.
Poster: A People's Tour – Architecture and Activism at UIC [PDF]
Admissions: Free
Location: 803 S. Morgan St. LCB2 Chicago, IL 60607
Co-sponsors:
Contact
Lena G. Reynolds
3129963095
Date updated
Jul 18, 2018