Heritage Garden & Monarch Projects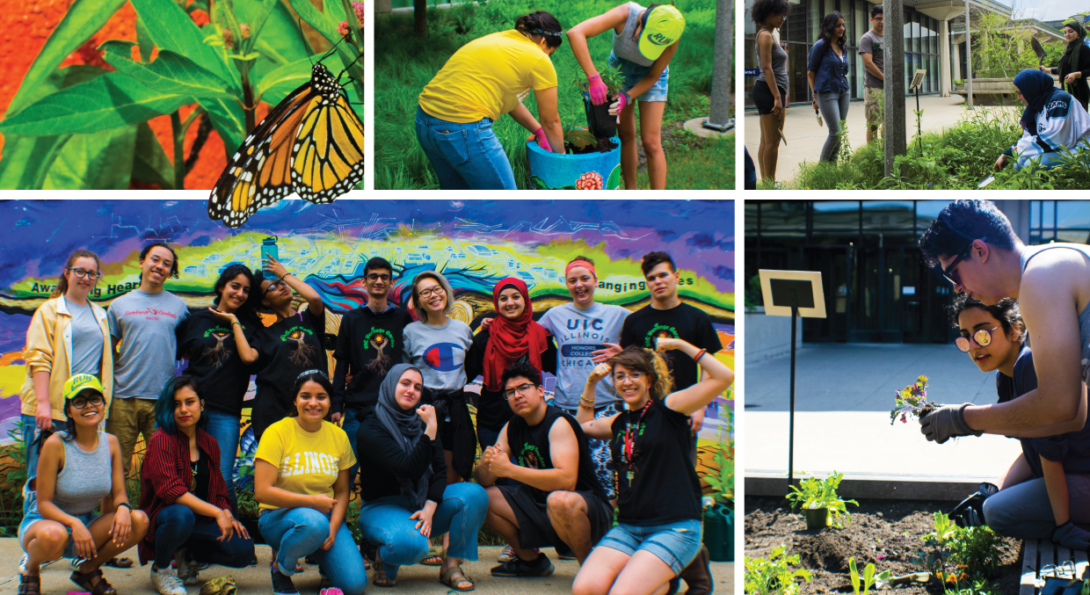 The UIC Heritage Garden is a hands-on learning project with an internship program where student interns work with faculty, staff and community members to connect horticulture with environmental sustainability, cultural diversity and social justice. The project's student leaders and interns oversee the planting of eight satellite gardens on the east side of campus. Paid internships are funded by the UIC Sustainability Fee. The Centers for Cultural Understanding and Social Change collaborate in this project with program infrastructure provided by the Latino Cultural Center (LCC). In 2015, the Heritage Garden and the Latino Cultural Center received a grant from the USDA Forest Service International Programs to establish a Monarch Habitat in the garden satellite in front of the LCC (Lecture Center B2). For more information, visit the UIC Heritage Garden website.
MONARCH BUTTERFLY HABITAT SATELLITE
Located in front of the UIC Latino Cultural Center, this habitat was created by the UIC Heritage Garden Interns in 2015 in response to a natural crisis: an 80% drop in the Monarch butterfly population from their historic average over the past 20 years. One major factor in this decline is the destruction of the Monarch butterfly habitat. Caterpillars feed exclusively on milkweed, which has become less available due to pesticides and prairie destruction. Planting a garden can provide food and shelter for pollinators like birds, bats, and of course, butterflies. These beautiful insects need support so they can continue to migrate across the continent each year. The Monarch serves as a symbol of immigration for the Latino community, as it moves freely across North American borders, representing beauty, resilience, and natural survival. In addition to inspiring environmental and climate action, this habitat can help spark conversations about cultural understanding and social justice.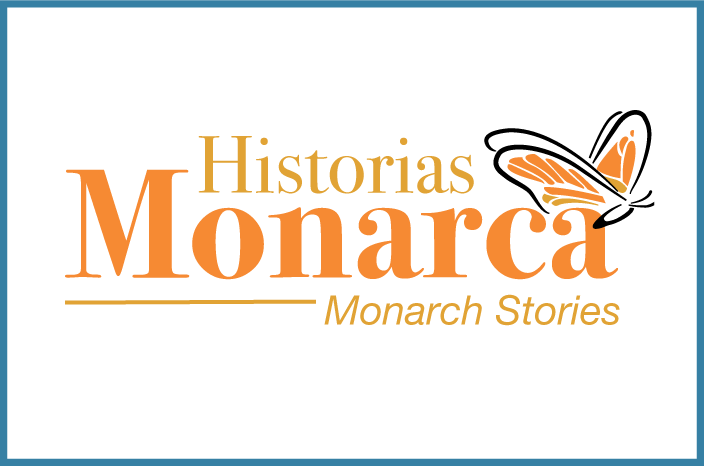 HISTORIAS MONARCA (MONARCH STORIES)
Historias Monarca (Monarch Stories) collects stories from Mexican communities in Chicago about their connections to Monarch butterflies, including conservation practices adapted from Mexico or learned in Chicago, cultural meanings of the Monarch in relation to homeland and the Midwest, and its symbolism for social and environmental justice. Historias Monarca is a storytelling project of the UIC Latino Cultural Center in partnership with UIC Heritage Garden, Enlace Chicago, and Yollocalli Arts Reach with support from the USDA Forest Service International Programs. Learn more and find these stories here!
SOCIAL & ENVIRONMENTAL POLLINATORS TOUR
Heritage Garden Interns and LCC Student Educators have also incorporated the new art installation into their Satellite and Gallery tours. The new Social & Environmental Pollinators Tour will be offered from June to October every year, as an extension of the UIC Heritage Garden tour. Find out more about the Social & Environmental Pollinators art installation on our website here.
Special thanks to The Chicago Community Trust and the USDA Forest Service – International Programs for funding these projects!