ABC Dialogues & Tours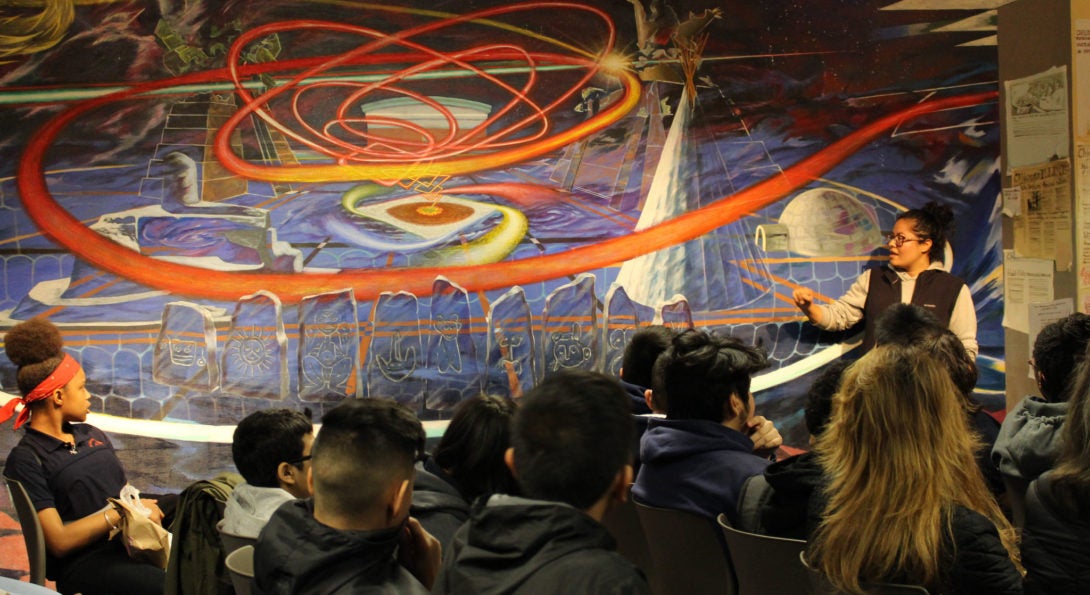 The UIC Latino Cultural Center is leading an Arts-Based Civic Dialogues (ABC Dialogues) and Tours Initiative using the power of art to collectively explore creative solutions for common challenges. Public art allows for a diversity of people to share their stories, concerns, and radical visions for a just future; and the LCC's mural—El Despertar de las Américas (The Awakening of the Americas)—is a tool for doing this.
Connecting Environmental/Climate Justice (ECJ) and Social Justice Dialogues focus on ECJ and its connection to im/migration, labor, and health (including COVID-19). Participants will discuss the disproportionate impact of environmental harms and systemic inequities on BIPOC communities. By facilitating group discussions using creative tools, students explore these connections and how their field of study and future careers can advance sustainable environmental and social justice practices. Through this dialogue, they also engage in self-reflection and consider how their cultural and personal assets can be harnessed to create community solutions and collective action.
In-Person – Dialogue sessions are held in the LCC gallery for 50 min. or 90 min. and can hold up to 30 participants. Larger groups can be split into multiple dialogue sessions.
LCC Mural Tours serve to introduce the LCC mural to visitors, intertwining artistic interpretation with historic tales of our campus community and linking these to contemporary life.
In-Person – Mural Tour sessions are in the LCC gallery for 50 in. and can hold up to 30 participants. Larger groups can be split into multiple tour sessions.
In-Person Heritage Garden Tours – until October 2023
The Heritage Garden is a hands-on learning project facilitated by the seven campus cultural centers (CCUSC), sponsored by the UIC Sustainability Fee. Join the student gardeners on this 50-minute exploration of the campus satellite gardens, including the Monarch Habitat, to learn diverse cultural stories linking environmental and social justice issues. Participants will also explore the Social & Environmental Pollinators Installation, a series of ten former ash urns painted by local Latinxs in Fall 2016 as part of the LCC's 40th anniversary celebration.
For access needs or questions, email
lcc@uic.edu
or call 312-996-3095. Auto-captions enabled on Zoom. All audiences are welcome.