ABC Dialogues & Tours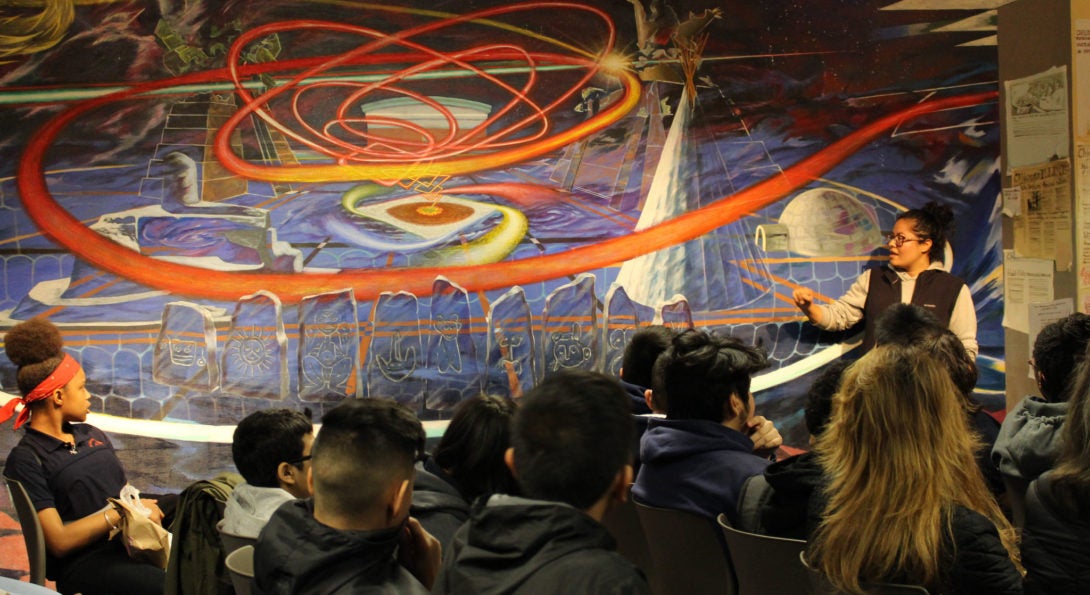 The UIC Latino Cultural Center is leading an Arts-Based Civic Dialogues (ABC Dialogues) and Tours Initiative  using the power of art to collectively explore creative solutions for common challenges. Public art allows for a diversity of people to share their stories, concerns, and radical visions for a just future; and the LCC's mural—El Despertar de las Américas (The Awakening of the Americas)—is a tool for doing this.
Although the UIC Latino Cultural Center will remain closed for the summer and fall, we offer Virtual Mural Tour and ABC Dialogue options for the Fall 2020 semester from August 31 – November 13.
LCC Dialogues focus on environmental and climate justice and its connection to the COVID-19 pandemic. Participants will discuss the disproportionate impact on Queer, Trans, Black, Indigenous, People of Color, and Disabled communities, rooted in environmental racism and systemic inequities.
Live Virtual Dialogues Connecting ECJ with COVID-19 – Dialogue sessions can be scheduled to accommodate class times as much as possible and within LCC staff capacity. Sessions are for 50 minutes or 90 minutes and can hold 10 to 25 participants. Larger groups can be split into multiple dialogues
LCC Mural Tours serve to introduce the LCC mural to visitors, intertwining artistic interpretation with historic tales of our campus community and linking these to contemporary life. These tours are available to UIC classes, high school students, and community groups. The following are options that you can choose from:
Live Virtual Mural Tour – Tours are scheduled on Mondays and Thursdays at 10am and 2pm for 50 minutes. Each tour can accommodate a group of 10 to 50 participants.
Self-Guided Virtual Mural Tour for Asynchronous classes – This pre-taped, 30 minute tour incorporates a series of questions to incite critical thinking and have students write a short response paper if instructors wish to assign this. The tour is accessible by completing the form below. Video will be available on August 24.
Self Guided Virtual Mural Tour Form
Desc
Seasonal Heritage Garden Tours
Heritage Garden Tours are currently suspended.
The Heritage Garden is a hands-on learning project facilitated by the seven campus cultural centers (CCUSC), sponsored by the UIC Sustainability Fee. Join the student gardeners on this 50-minute exploration of the campus satellite gardens, including the Monarch Habitat, to learn diverse cultural stories linking environmental and social justice issues. Participants will also explore the Social & Environmental Pollinators Installation, a series of ten former ash urns painted by local Latinxs in Fall 2016 as part of the LCC's 40th anniversary celebration.
Dialogue guides for museums, cultural centers, and historic sites
These guides have been created out of LCC initiatives in order to help inspire other cultural sites to address challenging contemporary issues with their communities through dialogue.
Watch and read how the LCC civic dialogues and tours support student learning and their college journey at UIC
Testimonials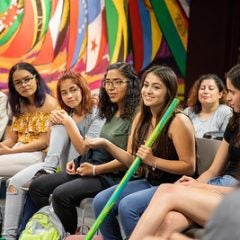 "US 130 students are now aware of LCC and the ECJ dialogues, they can connect course content materials in unique ways and also find personal connections to the dialogues, which research has shown has the greatest impact for change in attitudes, perspectives and behavior. Given the large class size (75 students) the smaller groups allow students to connect to students in the class that they may not otherwise communicate with during the semester.

We bring the LCC visit and ECJ dialogues up throughout the course time to make sure that the materials and learning objectives are reinforced and students gain additional insights from the ECJ dialogues with regard to the course materials. They are encouraged to bring their experiences up in class and during the online discussion days.

Overall, I highly recommend finding ways to integrate the ECJ dialogues in UIC course materials so that students get extra exposure to not only the content of the dialogues but also the amazing resource that LCC is for UIC students".

Adjunct Assistant Professor, UIC Urban Planning & Policy

|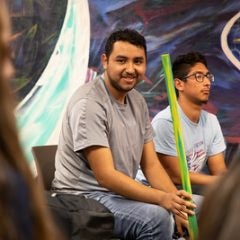 I will certainly take away the fact that different talents and skills of individuals can be used to inform & influence people about environmental issues.

|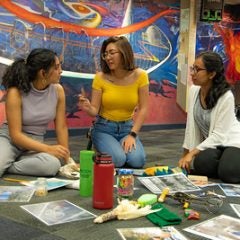 This discussion helped me realize how sustainable practices may already be a part of our/some cultural practices.

|