LCC Team Members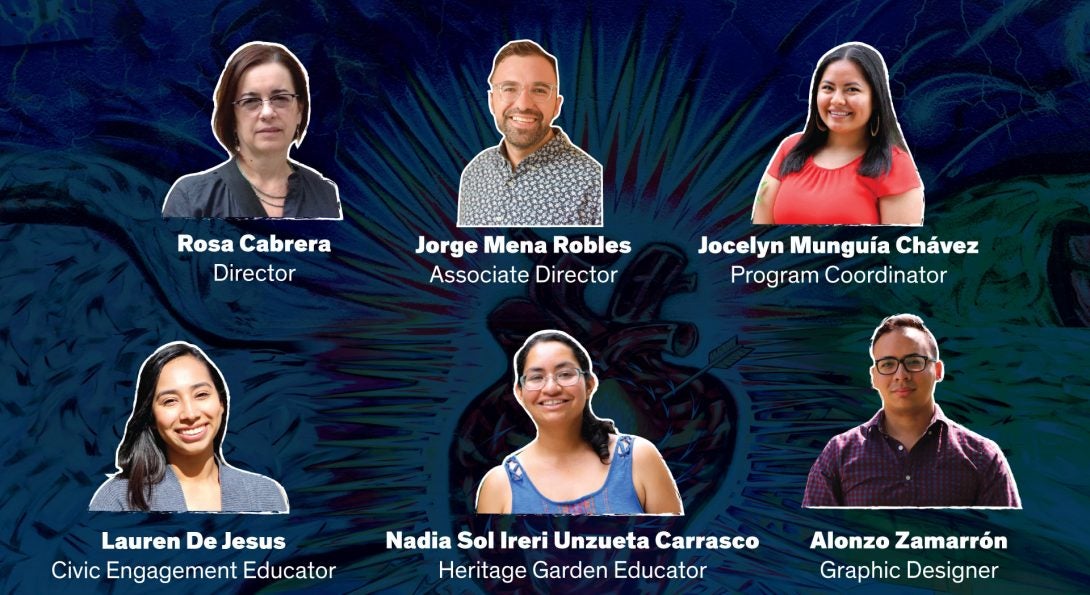 She / Her / Hers

Ashley is a sophomore in the  UIC College of Liberal Arts and Sciences. She is a first generation student from the Northwest Suburbs. Her major is pre-nursing and her academic goal is to graduate with a nursing degree. She joined the LCC team in order to be more active within the Latinx community.

She / Her / Hers

Nancy Morales is a South Side Chicago native, born and raised in the Brighton Park neighborhood. She transferred to UIC as an undergraduate student majoring in Neuroscience and minoring in Life Science Visualization. She is a strong advocate for healthcare equity in Latinx communities. She has volunteered as a Spanish interpreter at the CommunityHealth Clinic and as a Surgical Services Volunteer at UI Health. In her free time she enjoys making art of all types of mediums such as pencil sketches, watercolor, paint, and more recently she has become interested in digital art. She hopes to combine her knowledge of science, knowledge from the LCC, and her art skills to bring awareness to healthcare disparities. She also hopes to take her knowledge into her process and goal of applying to medical school.

She / Her / Hers

Isabel Tamas is a fourth-year Honors College student at UIC and a proud Mexican-Romanian. Her passion for addressing mental health issues and advocacy of underrepresented communities have led her to pursue degrees in Anthropology and Psychology. Isabel has experience conducting on-campus research at the Institute of Public Health, where she studied youth mentoring. She is currently an Ambassador of UIC's Gender and Sexuality Center. Outside UIC, Isabel works as a volunteer with Nuestros Pequeños Hermanos, a nonprofit organization that supports children in Latin America and the Caribbean. As an intern, she hopes to spread awareness surrounding the relationship between environmental justice and the ongoing COVID-19 pandemic.
She / Her/ Hers

A Chicago native, Wilmarie graduated from Roosevelt University with a BA in Sustainability Studies. She is a graduate student in UIC's Museum and Exhibition Studies program. As a cultural worker, Wilmarie's interests lie in museum accessibility and representation for BIPOC individuals. She also is interested in the evolution and sustainability of museums as it relates to collections and climate change. As a graduate assistant at the LCC, Wilmarie enjoys being able to amplify the voices in the Latinx community.
She / Her / Hers

Sheila is an undergraduate student majoring in Political Science and Public Policy at UIC. She is a Mexican-Guatemalan first-generation college student. Growing up on the northwest side of Chicago, she is interested in local nonprofit organizations and volunteering in her community. She is a member of Chicago Scholars, a Mikva Challenge alumni, and currently works in UIC Campus Housing. Sheila is passionate about social and environmental justice as well as policy reform. She looks forward to supporting Latinx voices and gaining expertise at the LCC.

She / Her / Hers

Jocelyn Meraz is a Latina and a first-year student at UIC studying Criminology, Law and Justice. She was raised in Oak Park where she is a member of a community based organization, Revolutionary Oak Park Youth Action League  (ROYAL). ROYAL is led by Black and Latinx youth organizers who believe that taking action is a powerful way to regain agency and heal from oppression. Jocelyn has had experience in public speaking, organizing, and civil disobediences. Her passion for activism sparked her interest to be a part of the LCC. She believes that all oppression is connected.

Heritage Garden project efforts are carried out through the activities of the internship program, which runs in Fall, Spring and Summer and adapts to the season. Interns sustain the planting of the satellite gardens and offer public programs, tours of the gardens, and volunteer days. The UIC Sustainability Fee has funded paid internships since its inception in the summer of 2013.

To see a list of current and past interns and leaders, visit the Heritage Garden website.
To find lists of past student workers, interns, staff, and graduate assistants, check out our archives here.