LCC Team Members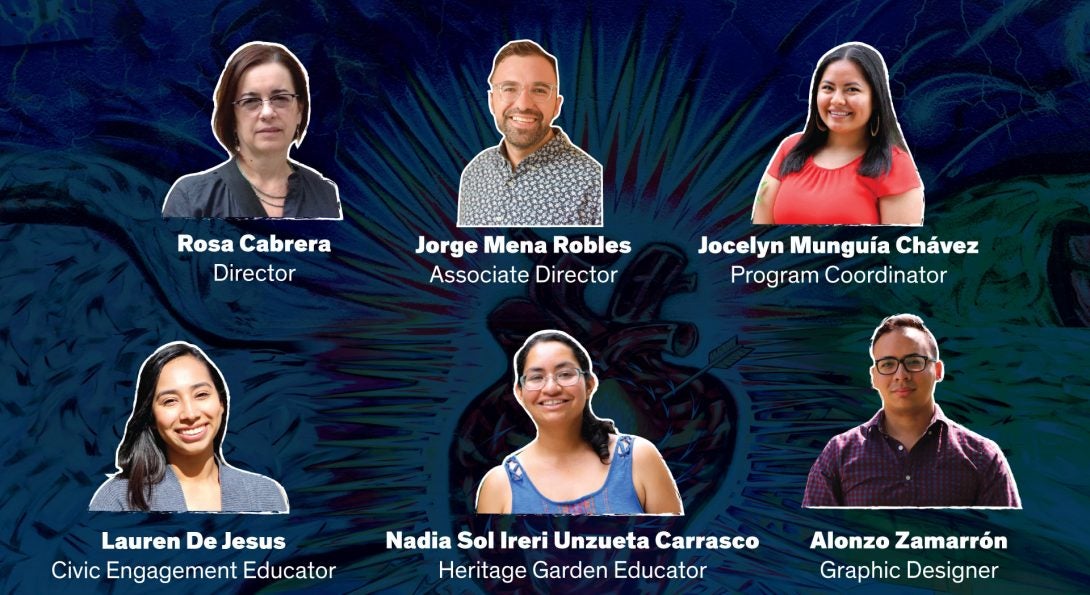 Student Educators
MECHIYA JAMISON

She / Her / Hers

Mechiya Jamison is a senior at the University of Illinois at Chicago studying Urban Planning and Public Policy. She is a leader of the Heritage Garden internship program and a Student Educator at the Latino Cultural Center. She is also an artist, dedicated to sustainable living, and the fight for liberation.
Graduate Assistants
Wilmarie Medina-Cortes

She / Her/ Hers

A Chicago native, Wilmarie graduated from Roosevelt University with a BA in Sustainability Studies. She is a graduate student in UIC's Museum and Exhibition Studies program. As a cultural worker, Wilmarie's interests lie in museum accessibility and representation for BIPOC individuals. She also is interested in the evolution and sustainability of museums as it relates to collections and climate change. As a graduate assistant at the LCC, Wilmarie enjoys being able to amplify the voices in the Latinx community.
Interns
Daniela Rosales

She / Her / Hers

Student Organization Leader Intern

Daniela is a Lead. Create. Change. Intern that started in Fall 2019. She is a current undergraduate student at UIC studying Urban Education with a minor in Public Policy and is apart of a local sorority on campus; Chi Sigma Omega and holds the Diversity and Inclusion chair. Daniela has developed a passion for social justice, community outreach, and civic engagement through attending protests and interning at local nonprofits.

Yazmin Jimenez

She / Her / Hers

Yazmin Jimenez is a bilingual student at UIC pursuing a Bachelor's in Psychology. Yazmin has been an intern with the Latino Cultural Center since 2019 assisting with archival work including reorganizing archives and transcribing oral histories. Yazmin is interested in the arts and humanities. Before the LCC, she's had experience working with various community artists.

Nancy Morales

She / Her / Hers

Nancy Morales is a South Side Chicago native, born and raised in the Brighton Park neighborhood. She recently transferred to UIC as an undergraduate student majoring in Neuroscience and minoring in Life Science Visualization. She is a strong advocate for healthcare equity in Latinx communities. She has volunteered as a Spanish interpreter at the CommunityHealth Clinic and as a Surgical Services Volunteer at UI Health. In her free time she enjoys making art of all types of mediums such as pencil sketches, watercolor, paint, and more recently she has become interested in digital art. She hopes to combine her knowledge of science, knowledge from the LCC, and her art skills to bring awareness to healthcare disparities. She also hopes to take her knowledge into her process and goal of applying to medical school.

Samantha Martinez

She / Her / Hers

Samantha has lived almost her entire life in Little Village. She has seen how much her community has changed throughout the years. She has seen the bad and the good, but one thing for certain is she has always spoken her mind on issues that matter. It is through that persistence that she found herself being involved with the LCC, hoping to learn more and be a better advocate for Latinx communities. She hopes to obtain her Bachelor's degree in Anthropology in late 2022, and travel the world.

Ashley Cruz

She / Her / Hers

Ashley is a freshman at the College of Liberal Arts and Sciences. She is a first generation student from the Northwest Suburbs. Her major is pre-nursing and her academic goal is to graduate with a nursing degree. She joined the LCC team in order to be more active within the Latinx community.

Isabel Tamas

She / Her / Hers

Isabel Tamas is a third-year Honors College student at UIC and a proud Mexican-Romanian. Her passion for addressing mental health issues and advocacy of underrepresented communities have led her to pursue degrees in Anthropology and Psychology. Isabel has experience conducting on-campus research at the Institute of Public Health, where she studied youth mentoring. She is currently an Ambassador of UIC's Gender and Sexuality Center. Outside UIC, Isabel works as a volunteer with Nuestros Pequeños Hermanos, a nonprofit organization that supports children in Latin America and the Caribbean. As an intern, she hopes to spread awareness surrounding the relationship between environmental justice and the ongoing COVID-19 pandemic.

Nancy M. Ramirez Blancas

She / Her / Hers

Nancy M. Ramirez Blancas was born in México and has been an intern at the Rafael Cintrón Ortiz Latino Cultural Center since the beginning of the Spring semester 2020. She is a DACA recipient and is currently focused on completing her Psychology degree with a Pre-law focus. Most of her work focuses on U.S. immigration politics and immigrant rights. Her achievements led her to be recognized by Senator Scott Bennett with a 2017 Immigrant Welcome Award for Student Leadership.

She has collaborated and worked alongside The Latino Cultural Center in Urbana-Champaign, student organization I-CAUSE (Illinois-Coalition Assisting Undocumented Students' Education), Reclaim Chicago, Chicago Burds for Justice, and many others.

As a twice award-winning leader and co-founder of I-CAUSE she is currently involved in service and with advocacy organizations that work in solidarity with the undocumented community, focusing primarily on equal secondary educational opportunities for all students. She has worked hard to educate University students, staff, and community members about issues of immigration such as DACA/undocumented students, and educational access.

She looks forward to graduating this fall 2020. She is considering going to law school and begin a prosperous law career.

Yesenia Garcia

She / Her / Hers

Yesenia Garcia is a first year Public Policy student at UIC and has worked most of her life in the STEM field. She enjoys advocating for others and making sure that youth are exposed to as many opportunities to succeed in the future. Her passion is teaching and educating others about the LGBTQIA+ and minority communities. She hopes to make a difference in her community by advocating for those who have gone voiceless.

Outside of her classes, Yesenia is a musician and enjoys listening to jazz. Throughout her years, she has learned how to play both saxophone and flute. She was able to participate in competitions with her high school band. She hopes for communities to come together through music and make a difference in today's society.

Yesenia is excited to work with the LCC to combine her experiences growing up in the West Lawn neighborhood and her community organizing.

Andrea Juarez

She / Her / Hers

Andrea is a Junior at UIC who was born and raised in the Brighton Park neighborhood of Chicago. Andrea is part of the College of Liberal Arts and Sciences where she is pursuing a degree in Latin American and Latinos Studies with a minor in Communication. As a first-generation student her goals in life includes helping other people like her to make an advancement in representation in all types of media whether it be art media or social media. Many times, Andrea feels that Latinx students are not encouraged enough to pursue literature and writing which can be an amazing experience. Andrea also enjoys working out going on long walks and binging new tv shows. She joined as an intern to the LCC because she wanted to get more involved with Latinx communities and people like her. Andrea hopes to learn a lot more about herself and the way we can advocate better for ourselves.

info

Heritage Garden project efforts are carried out through the activities of the internship program, which runs in Fall, Spring and Summer and adapts to the season. Interns sustain the planting of the satellite gardens and offer public programs, tours of the gardens, and volunteer days. The UIC Sustainability Fee has funded paid internships since its inception in the summer of 2013.

To see a list of current and past interns and leaders, visit the Heritage Garden website.

Find out more at the links below
Past LCC Team Members
To find lists of past student workers, interns, staff, and graduate assistants, check out our archives here.