LCC Team Members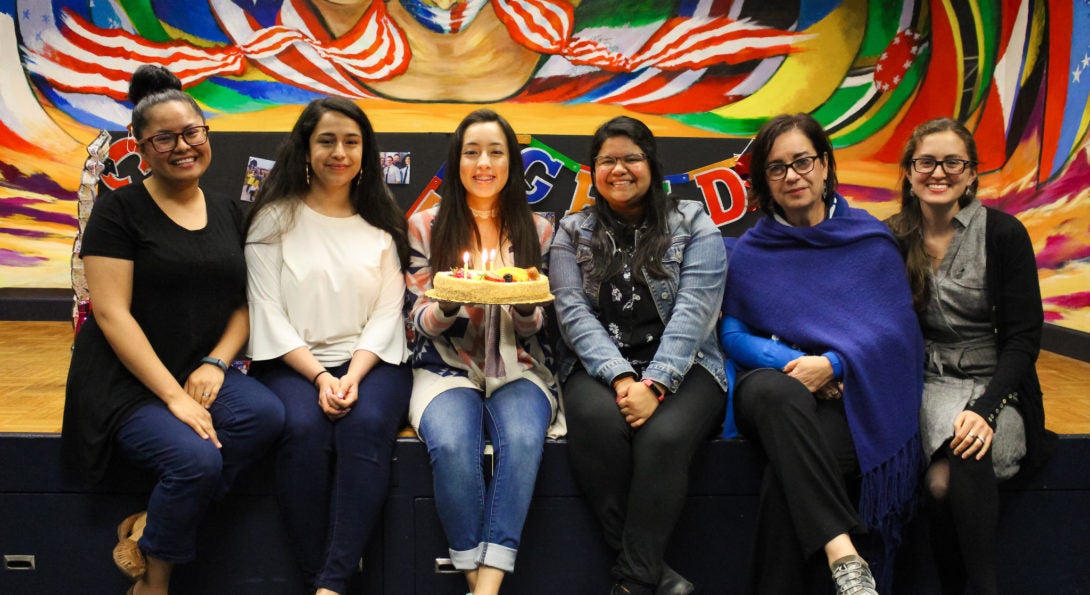 Student Educators
Student Educator, Spring 2018 to Present

He / Him / His

Erick Vaquero has grown up and continues to live in Wheeling, Illinois in the Northwest Chicago Suburbs. At UIC, Erick has chosen to pursue a B.S. in Computer Science with a minor in social justice and expects to graduate in 2020. While at UIC, he has been exploring his academic interests beyond the scope of the classroom by being a member of the Society of Hispanic Professional Engineers (SHPE) and working at the Latino Cultural Center as a Student Educator. Erick is also an elected member of the UIC Senate. As an LCC Student Educator, Erick has been tasked with assisting with LCC public programs, serving as an LCC ambassador, and collaborating with the Heritage Garden by creating an app which will aid in monarch butterfly conservation. While at UIC and the LCC, Erick hopes to create equity in places people don't often consider and to also gain a deeper understanding and appreciation of the cultural diversity in our communities.
Graduate Assistants
lauren

She / Her / Hers

Lauren De Jesus was born and raised in Chicago's Northwest side. She grew up visiting museums and volunteering in her community, both of which have remained important commitments to her. She received her Bachelor of Arts in Anthropology with a minor in American Indian Studies from the University of Wisconsin-Madison. While there, she developed a passion for cultures, museum work, and social justice. Her goal is to change the way the public views museums by demonstrating that museums can use their collections, merging them with history, research, and testimony, to expose the various issues facing society today.

ian

He / Him / His

Ian Torres grew up half of his life in Puerto Rico and half of his life in the West Suburbs on the outskirts of Chicago. He received his Bachelors of Arts in Latin American and Latino Studies with a double minor in Political Science and Spanish from the University of Illinois at Chicago. As a student Ian worked as a student educator with the UIC Latino Cultural Center, as a Student Leader for the UIC Heritage Garden, and as a member or leader of several student organizations on campus. He became the Dialogue Coordinator for the LCC in the Spring of 2017 and Program Assistant for L@s GANAS in the Spring of 2018. Working with the L@s GANAS STEM program, supported by the Hispanic Serving Institution grant, Ian has helped craft new dialogues tailored for science research students. He also schedules and facilitates these programs. Ian is also currently pursuing his Masters of Education Degree in Youth Development at UIC.

Sarah G. Hernandez, Graduate Research Assistant

She / Her / Hers

Sarah Gabriella Hernandez has been with the LCC since 2013, working with the UIC Heritage
Garden internship program, which is an experiential learning initiative for UIC undergraduates
that, through multiple methods, highlights the connection between environmental
sustainability, cultural diversity, and social justice.

Sarah is a PhD candidate in the Community and Prevention Research program in the
Department of Psychology and her interests broadly include community-based participatory
research, program evaluation, community health assessment, knowledge translation and
dissemination, urban agriculture in health promotion, and environmental justice. Along with
her work at the LCC, Sarah has been an active leader in the Little Village Community Health
Assessment (LVCHA), which is an academic-community collaborative research effort to promote
health equity in the Little Village community. Through varying community-based research and
evaluation projects during her time at UIC, Sarah focuses on creating and sustaining
collaborative engagement processes between diverse communities and academic stakeholders
in project development, implementation, dissemination, action, and evaluation.

Sarah was born and raised in South Florida among both Cuban and Puerto-Rican families. She
thinks of Chicago as her second home, and cherishes all the family she's made through
generations of Heritage Gardeners.
Interns
Amaris Duran

She / Her / Hers

Student Organization Intern

College: Liberal Arts & Sciences
Major: Political Science
Minor: Latin American & Latino Studies

Jasbeth Quintas

She / Her / Hers

Digital Media and Marketing Intern

College: College of Education
Major: Urban Education (Science)

info

Heritage Garden project efforts are carried out through the activities of the internship program, which runs in Fall, Spring and Summer and adapts to the season. Interns sustain the planting of the satellite gardens and offer public programs, tours of the gardens, and volunteer days. The UIC Sustainability Fee has funded paid internships since its inception in the summer of 2013.

To see a list of current and past interns and leaders, visit the Heritage Garden website.
Past LCC Team Members
To find lists of past student workers, interns, staff, and graduate assistants, check out our archives here.