Social Pollinators Installation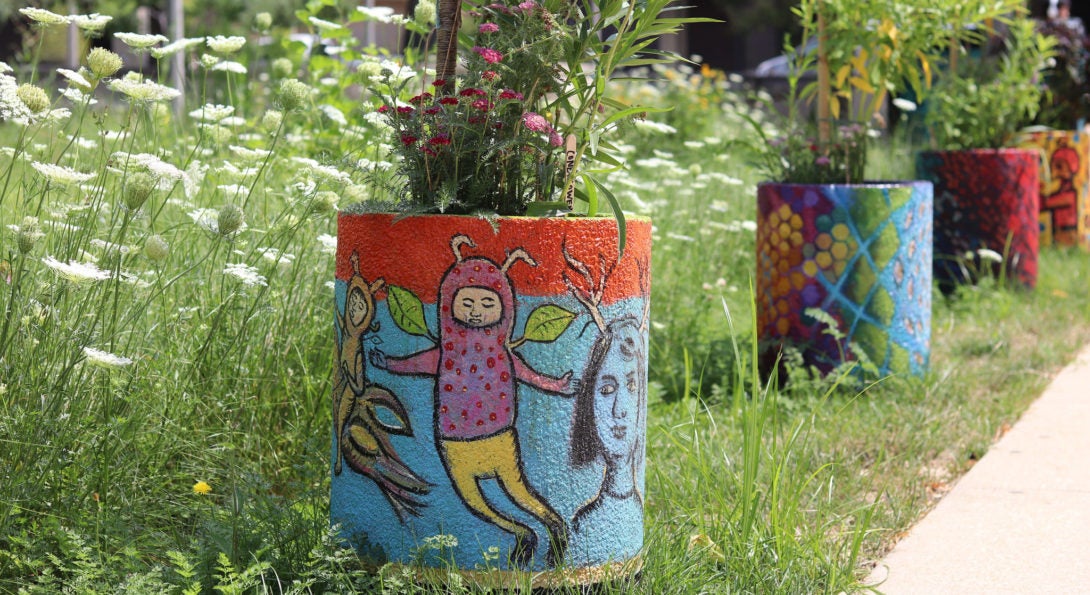 The Social and Environmental Pollinators project was inspired by the UIC Latino Cultural Center's work with environmental and artistic issues over the years, as a creative way to celebrate the center's 40th anniversary, and funded by a grant from the Chicago Community Trust and the USDA Forest Service International Programs. As the campus phased out cigarette use, LCC director Rosa Cabrera saw an opportunity to repurpose the old ashtray urns. Working with artist and project curator Sam Kirk, ten urns were assigned to ten local Latinx artists to paint unique pieces in their own interpretation of "social pollinators" and animal pollinators. The urns were placed in the nearby bioswale, a natural area planted with native plants that attracts pollinators.
The Latino Cultural Center conceptualizes artists as social pollinators, because they help to share ideas and spark the seeds of change as active cultural workers, addressing important community challenges through community practices. Equally, animal pollinators, the vast majority of which are insects and birds, are vital to our food chain. This includes butterflies, bees, ants, beetles, wasps, moths, hummingbirds, and bats. The metaphor in this connection is that both animal pollinators and artists need to be protected and nourished because without animal pollinators, humans would not have much to eat, and without arts and cultural resources, the world will lose the most influential source of creativity needed to solve common challenges and enrich our lives.
To engage with these new artistic installations, tours of the LCC Gallery and the UIC Heritage Garden will include a visit to the pollinator urns as well, offered Spring, Summer, and Fall each year. The pollinators project provides a clear link to the Heritage Garden's Monarch Habitat Satellite garden, and the LCC's Historias Monarca project. The latter is an initiative to engage families to share their connections with the natural environment, including stories and best practices adapted from their homelands or learned in Chicago, which can help conserve and create Monarch habitats in the Midwest and Mexico. Explore each of the pollinator urns at the bottom of this page by clicking on the artist names. Check out more stories, resources, and images:
Social & Environmental Pollinator Project Video (see below)
Naomi Martinez

Naomi Martinez is a painter and teaching artist from Chicago, who continues work with various arts and grassroots organizations to help bring murals and other public art projects to local communities. Her work is inspired by Japanese animation and the Superflat art movement, independent comics, nature, and growing up in Chicago.

Her urn has a light blue background, with a large pink/purple face on one side, and flowers wrapping around the back. The brightness of the colors represents her culture, and the vibrancy is meant to symbolize how even in the darkest times with the wild world we live in, there is always beauty that can be sought out.

Ricardo Gonzalez

Ricardo Gonzales is a teaching and working artist in Chicago, whose artwork celebrates, questions, and critiques various elements used to "brand" culture, such as popular iconography, externally imposed generalizations and tropes.

His urn features a colorful luchador next to a black-and-white painting of a woman named Lucy Parsons. Gears on the back of the urn are turned by brown hands. Gonzalez was inspired by the concept of cognitive thought, so the cogs symbolize how we turn our mental gears, and also symbolize labor itself as a valuable thing. The two (mental and physical) have come together to be a catalyst for ideas and change. The luchador represents a warrior, and Lucy Parsons was a social activist in Chicago, originally from Texas, who helped shape Chicago's labor rights and social justice movements in the early 1900s.

Cesar Perez

Cesar Perez is an artist/designer based in Chicago, whose style is developed from a combination of comic book/representation/graffiti style which can come off as both spontaneous and clean, as he tries to highlight marking gestures in his renderings as well as depth and balance through color and shape.

His urn is covered with swirling colors along a diagonal axis, but the colors are darker and more mysterious than the bright vibrancy of Pablo Serrano's urn. The lines of color are crooked, sometimes smooth and sometimes jagged, reminiscent of a tree branch or a bolt of lightning. Round shapes resemble multicolored seeds, interspersed throughout the dark chaos. Perez was inspired by the colorful patterns on birds, butterflies, and natural foliage. The sense of movement and shape is represented instead of the figurative animals.

Jenny Cunningham

Jenny Cunningham is a first-generation Afro-latina born in Brooklyn, now based in Chicago. Her art is inspired by many things including nature, her love of culture, queso blanco, and the motto of her fellow Ticos (Costa Ricans)… 'Pura Vida.'

Her urn has a dark purple background covered with bright spots like lightening bugs. There are also birds scattered throughout with rainbow wings. On one side there is a golden cage with the door open. To Cunningham, a social pollinator is someone who can plant the seeds of change or helps light the way to what change should look like. "Art is important, and it's one of the best ways to communicate ideas and thoughts, without words getting in the way."

Sam Kirk

Sam Kirk is a multicultural, multidisciplinary artist and cultural curator, born and raised on the south side of Chicago in a working class family. Her work is known for vibrant color palette, whimsical characters, and profound stories laced with optimism. As the lead curator of the Social Pollinators project, Kirk wanted to represent the Latino community across the Chicago region, bridging the divides of the segregated city to show Puerto Rican, Columbian, Mixed-race, etc. origins.

Her urn has bold black lines and the word Tlacololeros written on it. The imagery is based on an experience Kirk had in Pilsen, where she witnessed a gathering across the street from her house. Music drew her in to find a dance she'd never seen. The Tlacololeros dance from Guerrero, Mexico involves the whole community, as dancers go around the neighborhood getting others to join in, to spark mother nature and encourage the plants to grow.

Chris Silva

Chris Silva was born in Puerto Rico, but has been profoundly shaped by Chicago's urban culture. From his solid graffiti art education he went on to play a significant role in the development of what is now commonly referred to as "street art." He has painted prominent pieces all across the city, such as the mosaic at the California Blue Line station (2004), and the block-long murals in Chicago's loop entitled "You Are Beautiful." (2006).

His urn has black stripes interspersed with warm colors like oranges, yellows, and reds. He was inspired by the colors of the bumblebee, and as he started painting the color variation was also influenced by the colors of a sunset. In addition to the stripes there are flowers spray-painted onto the mural with stark angles to their stems and leaves. The flowers are like delicate purple poofs. The artist hoped to inspire a celebratory, joyful, visual experience for the viewer, whoever might be walking by.

Diana Solis

Diana Solis was born in Monterrey, Mexico, but has made Chicago her home for over 20 years. The characters in her drawings often appear whimsical and childlike, and like fairy tales and myths they hold a darker and more challenging story than meets the eye.

Her urn has an orange background with prominent figures around the center. Solis drew from visual characters she has created over time. The characters deal with issues of colonization, helping one another, eating, etc. Her work combines figurative with abstract sensibilities. The unseen within the obvious, where this takes her is always an adventure. The crossing over and blurring of the lines, animals with human features, nature, trees becoming somewhat human, imaginary hybrids in a state of change.

Sandra Antongiorgi

Sandra Antongiorgi is a Chicago-based artist whose works dot many diverse neighborhoods of this city. She was one of several artists who worked with Hector Duarte to create the LCC's indoor mural back in 1996. She draws upon life experiences, power relationships, culture, boundaries, mysticism and spirituality. She is a champion of children's rights and works to expose the damage caused by family violence, incarceration and systematic marginalization.

Her urn has a light blue background, with a prominent hummingbird flying through, with a halo around it. The bird is about to pollinate what looks like it could be a flower, but instead of petals there are many many eyes. On the other side of the urn there is a honeycomb pattern in varying warm-colored shades, referencing honeybee pollination. Antongiorgi wants artists and viewers to be more in tune with nature around them, to be more intuitive, as creatures of this natural world.

Pablo Serrano

Pablo Serrano is a Pilsen-based artist whose work has focused on using the creative potential of art to explore different aspects of citizenship, education, and politics. Constantly seeking to engage different members of the broader community about important questions and concerns through his art classes and art shows, he believes all forms of creativity are essential for making meaning in a complicated world.

His urn has a rainbow of colors swirling along in an angle, either up to the left or down to the right. The bursts of color are all in a squared shape, some short, some long and rectangular, each moving along the same diagonal angle. The colors break in on one another in a captivating way, each with a rich vibrancy behind it. Along the top edge of the urn is written "Creativity will set us free. A world 4 you and me." Serrano believes being a social pollinator means believing your culture is alive. Especially as one grows older, it's important to invest yourself in the evolution and growth of your culture: challenging what needs to be challenged, and affirming what needs to be affirmed.

CHema Skandal

CHema Skandal is an artist whose work has a special flavor of cross-cultural influence: his roots in México and his newfound home in America, each culture vibing and feeding off the other over time. Music is at the heart of his work, reflected in his lively art, which reverberates with lyrical energy, with the feeling of a live show where everything is happening all at once. He considers his ancestral lineage of indigenous cultures mixed with European colonizers, further emphasizing the global universality of the desire to belong in one place or another, and to own space in the world.

His urn has a yellow background with bring colorful bursts and flowers. There are people interacting with one another, there are cute fat little bumblebees, and symbols of energy, sound, and movement. Skandal envisions the role of a social pollinator as one who takes different cultural elements and mixes them to influence others in the community and beyond. Art is a way to portray the living history of the now.