Contact / Visit Us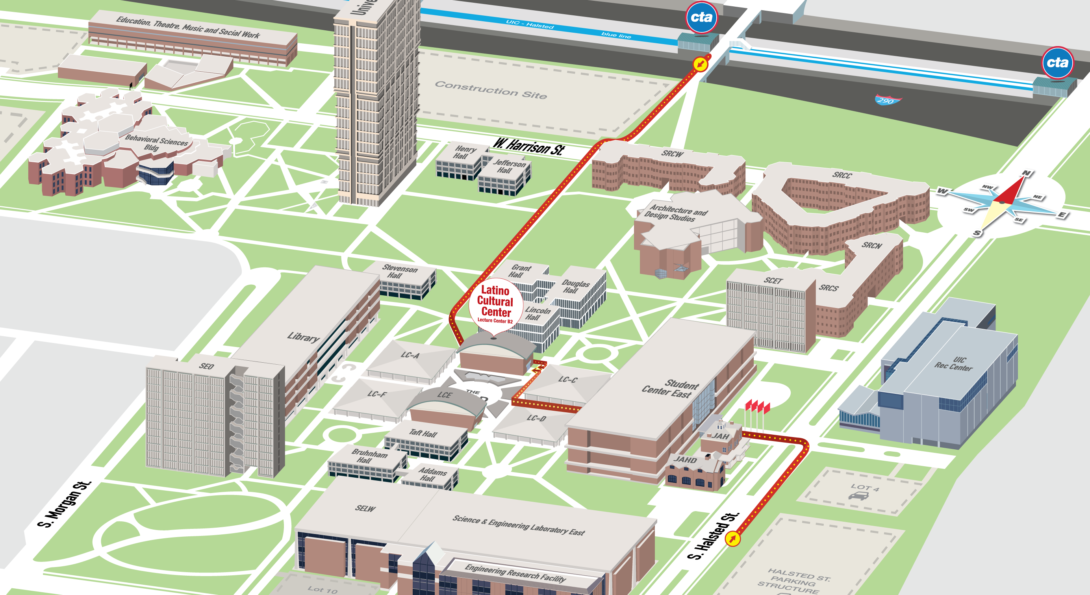 The Latino Cultural Center (LCC) is in the east side of Lecture Center B (LCB2) on the UIC East Campus between Harrison and Taylor, Morgan and Halsted. For transportation, the CTA Blue Line train has a stop right on campus at UIC-Halsted. The LCC is also accessible via the Harrison and Halsted buses, and there are several campus parking structures. The Halsted Street Parking Structure (HLPS) is the nearest option, and follows university parking rates.
Directions to the LCC
(See Google links & Illustrated Map above):
From Haslted St. Parking Structure – Entering campus through the Student Center East on Halsted (SCE), continue west into the Quad. LCB2 is to your right, on the north side of the Quad, and you'll find the LCC through the east door. Keep an eye out for the mural painting of a heart overhead! Click the following link to see a PDF version of the map below or follow this Google link if SCE is closed.
LCC hours:
Office and Gallery hours: Monday-Thursday 9am – 5pm and Friday 9am – 3pm
Phone: (312) 996-3095
Fax: (312) 996-9092
Email: lcc@uic.edu
Mail code: MC218
Address:
Rafael Cintrón Ortiz Latino Cultural Center at the University of Illinois at Chicago
803 S. Morgan St., Lecture Center B2 (MC 218), Chicago, IL 60607