Oct
24
2018
ARTivism – Heals & Feels: Voguing
October 24, 2018
12:00 PM - 1:30 PM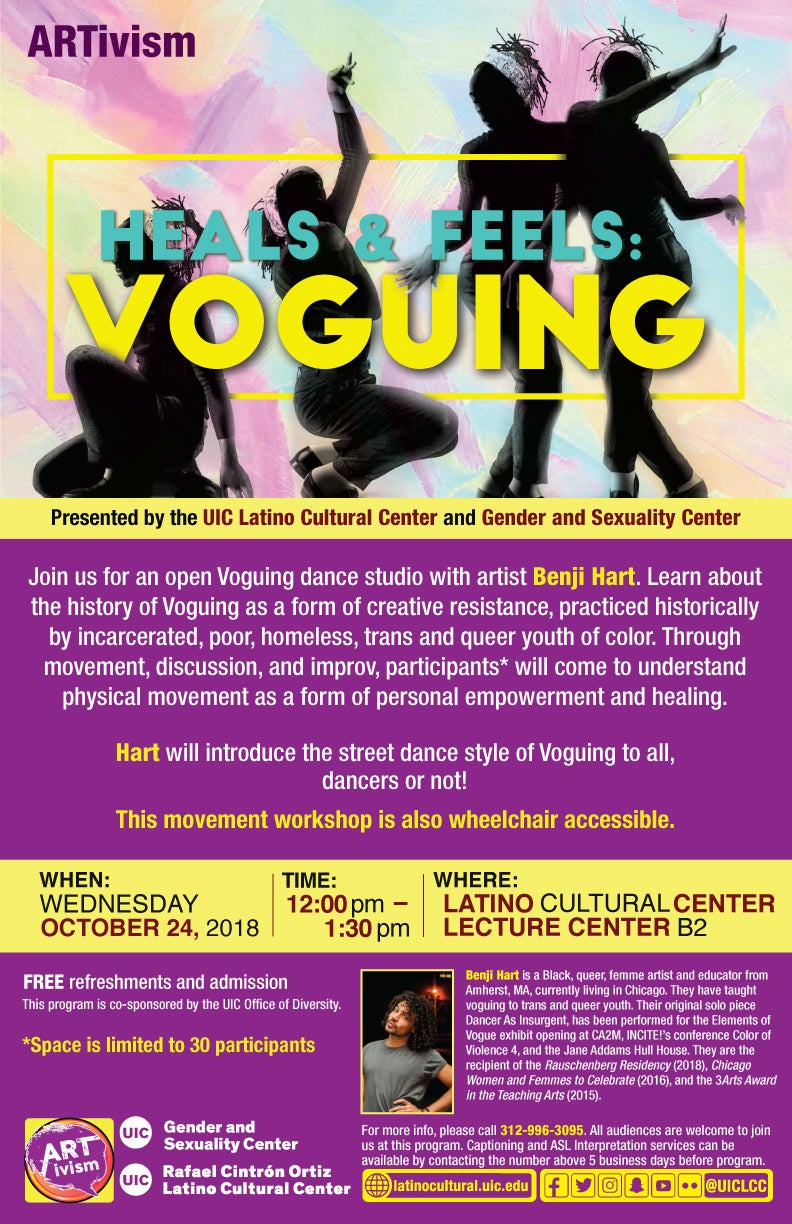 Presented by the UIC Latino Cultural Center and Gender and Sexuality Center
Join us for an open Voguing dance studio with artist Benji Hart. Learn about the history of Voguing as a form of creative resistance, practiced historically by incarcerated, poor, homeless, trans and queer youth of color. Through movement, discussion, and improv, participants* will come to understand physical movement as a form of both personal empowerment and a vehicle for collective resistance.
Hart will introduce the street dance style of Voguing to all, dancers or not!
This movement workshop is wheelchair accessible.
*Space is limited to 30 participants
Benji Hart is a Black, queer, femme artist and educator from Amherst, MA, currently living in Chicago. They have taught voguing to trans and queer youth at Black & Pink's National Convening, the Chicago Cultural Center, and the Broadway Youth Center. Their original solo piece Dancer As Insurgent —which explores vogue as a form of radical resistance— has been performed for the Elements of Vogue exhibit opening at CA2M, INCITE!'s conference Color of Violence 4, and the Jane Addams Hull House. They are the recipient of the Rauschenberg Residency (2018), Chicago Women and Femmes to Celebrate (2016), and the 3Arts Award in the Teaching Arts (2015).
When: Wednesday, October 24, 2018
Time: 12pm-1:30pm
Where: Latino Cultural Center - Lecture Center B2
This program is co-sponsored by the UIC Office of Diversity.
For more info, please call 312-996-3095. All audiences are welcome to join us at this program. Captioning and ASL Interpretation services can be available by contacting the number above 5 business days before program.
Contact
Jocelyn Munguia Chavez