Apr
5
2016
Ayotzinapa Lives, the Struggle Continues
April 5 - 6, 2016
10:00 AM - 4:00 PM
Artist in Residence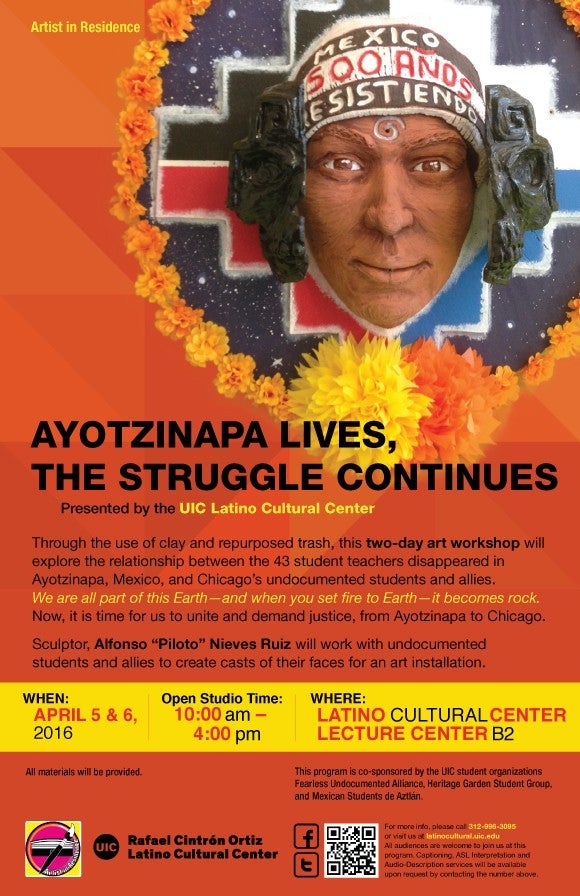 Presented by: UIC Latino Cultural Center
Through the use of clay and repurposed trash, this two-day art workshop will explore the relationship between the 43 student teachers disappeared in Ayotzinapa, Mexico, and Chicago's undocumented students and allies. We are all part of this Earth—and when you set fire to Earth—it becomes rock. Now, it is time for us to unite and demand justice, from Ayotzinapa to Chicago.
Sculptor, Alfonso "Piloto" Nieves Ruiz will work with undocumented students and allies to create casts of their faces for an art installation. All materials will be provided.
All audiences are welcome to join us at this program. Captioning, ASL Interpretation and Audio-Description services will be available upon request by contacting us.
Poster: Ayotzinapa Lives, the Struggle Continues [PDF]
Admissions: Free
Location: 803 S. Morgan St. LCB2 Chicago, IL 60607
Co-sponsors: UIC student organizations Fearless Undocumented Alliance, Heritage Garden Student Group, and Mexican Students de Aztlán
Date updated
Jun 26, 2018