Oct
17
2018
Civic Cinema: Berta Didn't Die, She Multiplied! – ¡Berta no se murió, se multiplicó!
October 17, 2018
3:30 PM - 5:00 PM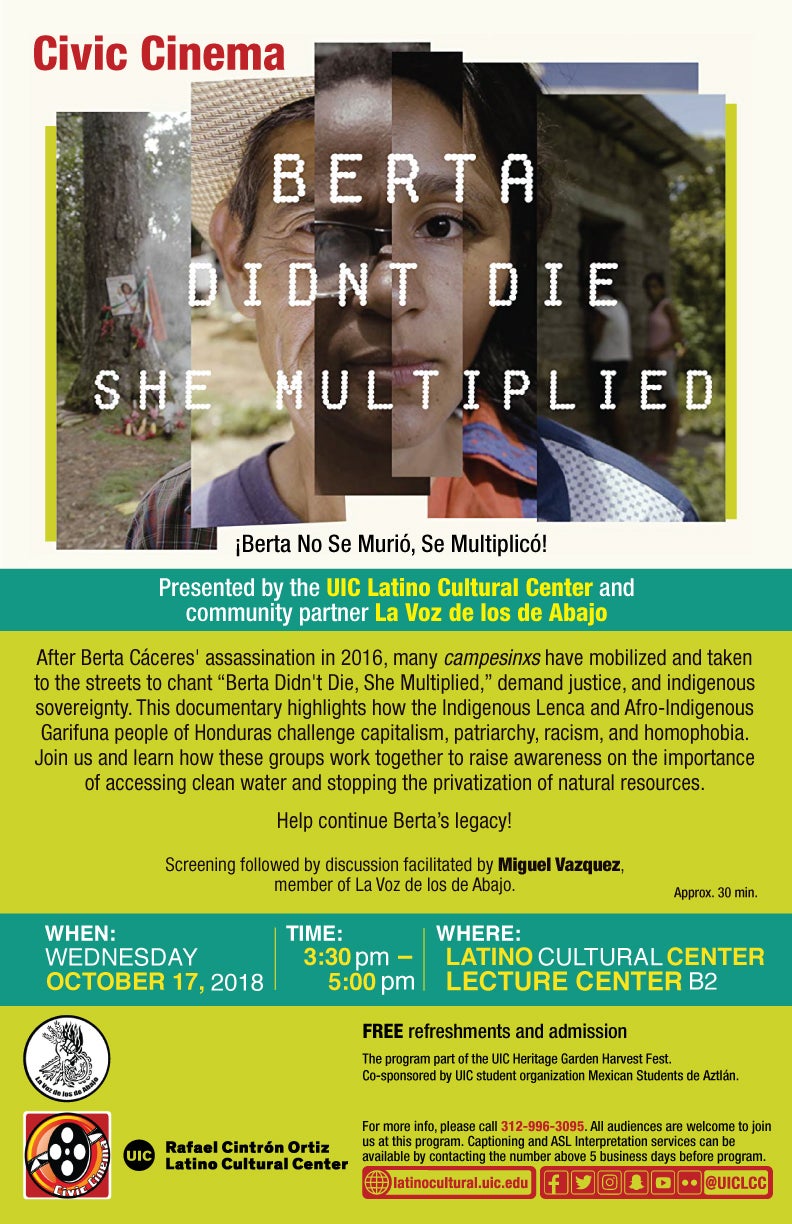 Presented by the UIC Latino Cultural Center and community partner La Voz de los de Abajo
After Berta Cáceres' assassination in 2016, many campesinxs have mobilized and taken to the streets to chant "Berta Didn't Die, She Multiplied," demand justice, and indigenous sovereignty. This documentary highlights how the Indigenous Lenca and Afro-Indigenous Garifuna people of Honduras challenge capitalism, patriarchy, racism, and homophobia. Join us and learn how these groups work together to raise awareness on the importance of accessing clean water and stopping the privatization of natural resources.
Help continue Berta's legacy!
Approx. 30 min.
Screening followed by discussion facilitated by Miguel Vazquez, member of La Voz de los de Abajo.
When: Wednesday, October 17, 2018
Time: 3:30pm to 5:00pm
Where: LCC - Lecture Center B2
FREE refreshments and admission
The program part of the UIC Heritage Garden Harvest Fest. Co-sponsored by UIC student organization Mexican Students de Aztlán.
For more info, please call 312-996-3095. All audiences are welcome to join us at this program. Captioning and ASL Interpretation services can be available by contacting the number above 5 business days before program.