Oct
18
2022
Climate of Inequalities – Claudia Navarro
October 18, 2022
5:00 PM - 6:00 PM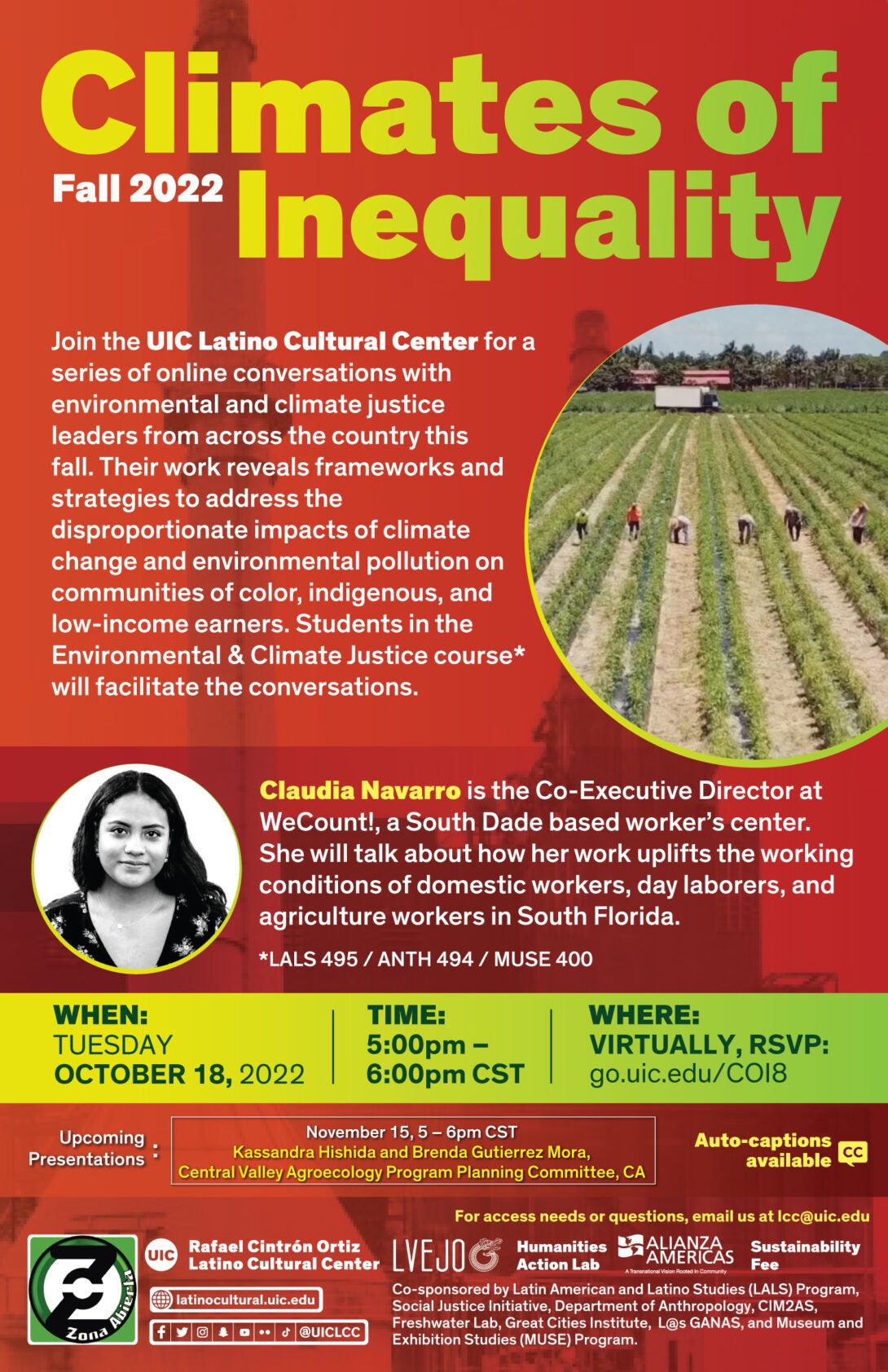 Climate of Inequalities
Fall 2022
Join the UIC Latino Cultural Center for a series of online conversations with environmental and climate justice leaders from across the country this fall. Their work reveals frameworks and strategies to address the disproportionate impacts of climate change and environmental pollution on communities of color, indigenous, and low-income earners. Students in the Environmental & Climate Justice course* will facilitate the conversations.
Claudia Navarro is the Co-Executive Director at WeCount!, a South Dade based worker's center. She will talk about how her work uplifts the working conditions of domestic workers, day laborers, and agriculture workers in South Florida.
*LALS 495 / ANTH 494 / MUSE 400
When: Tuesday, October 18, 2022
Time: 5PM-6PM CST
Where: go.uic.edu/COI8
Auto-captions available CC
For access needs or questions, email us at lcc@uic.edu
Upcoming Presentation: 
Tuesday, November 15, 5-6PM CST
Kassandra Hishida and Brenda Gutierrez Mora, Central Valley Agroecology Program Planning Committee, CA
Co-sponsored by Latin American and Latino Studies (LALS) Program, Social Justice Initiative, Department of Anthropology, CIM2AS, Freshwater Lab, Great Cities Institute,  L@s GANAS, and Museum and Exhibition Studies (MUSE) Program.
Zona Abierta is in partnership with the Humanities Action Lab | LVEJO | Alianza Américas | Sustainability Fee
RSVP
Date updated
Sep 29, 2022