Sep
29
2021
CLIMATES OF INEQUALITY – Todd Miller
September 29, 2021
4:00 PM - 5:30 PM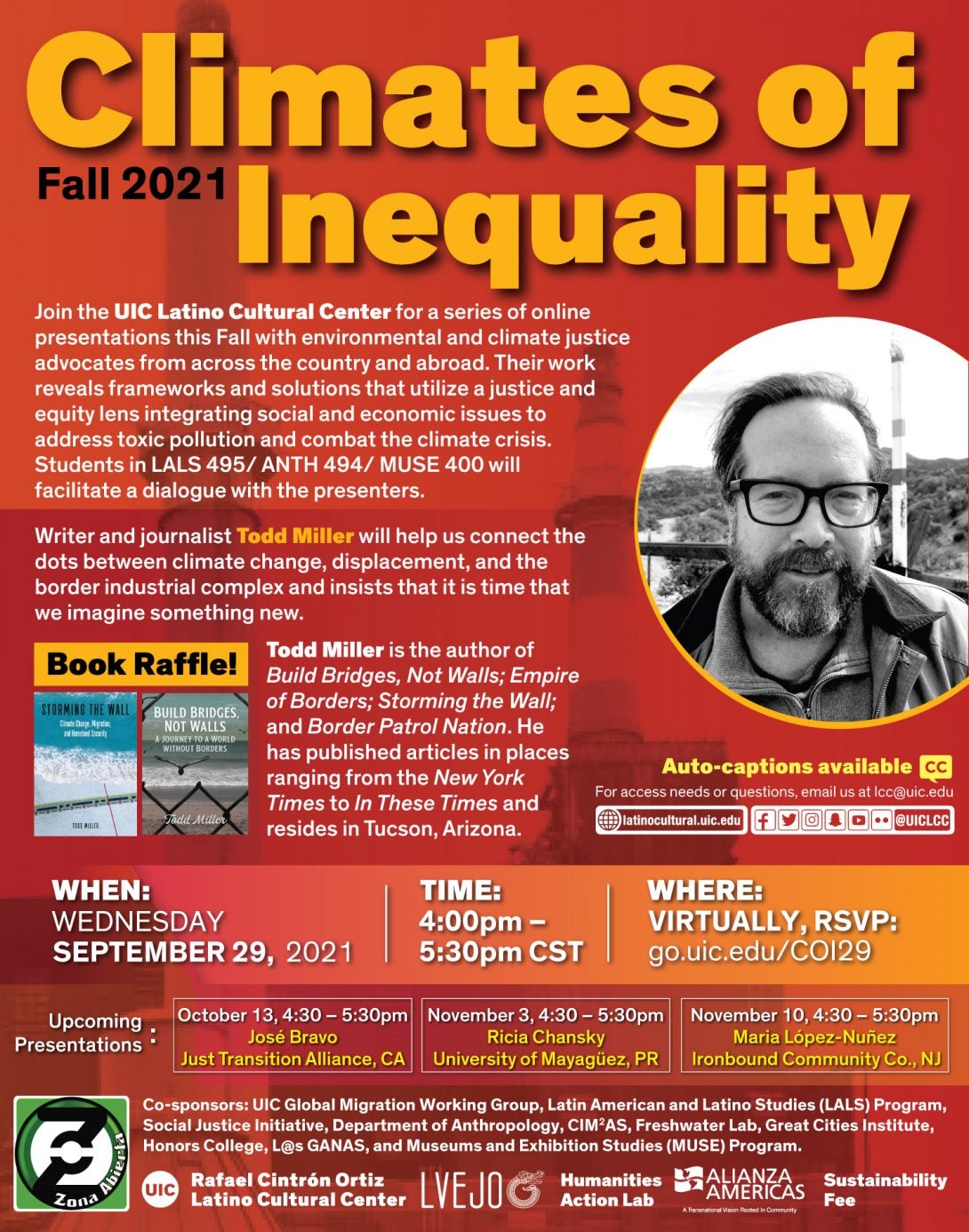 Fall 2021
CLIMATES OF INEQUALITY
Join the UIC Latino Cultural Center for a series of online presentations this Fall with environmental and climate justice advocates from across the country and abroad. Their work reveals frameworks and solutions that utilize a justice and equity lens integrating social and economic issues to address toxic pollution and combat the climate crisis. Students in LALS 495/ ANTH 494/ MUSE 400 will facilitate a dialogue with the presenters.
Writer and journalist Todd Miller will help us connect the dots between climate change, displacement, and the border industrial complex and insists that it is time that we imagine something new.
Todd Miller is the author of Build Bridges, Not Walls; Empire of Borders; Storming the Wall; and Border Patrol Nation. He has published articles in places ranging from the New York Times to In These Times and resides in Tucson, Arizona.
When: Wednesday, September 29, 2021
Time: 4:00-5:30PM CST
Where: go.uic.edu/COI29
Book Raffle: Storming the Wall  | Build Bridges, Not Walls.
Auto-captions available CC
Co-sponsored by the UIC Global Migration Working Group, Latin American and Latino Studies (LALS) Program, Social Justice Initiative, Department of Anthropology, CIM2AS, Freshwater Lab, Great Cities Institute, Honors College, L@s GANAS, Museums and Exhibition Studies (MUSE) Program, and Sustainability Fee.
In partnership with the Humanities Action Lab, Little Village Environmental Justice Organization (LVEJO), and Alianza Americas.
RSVP
Date updated
Sep 28, 2021