Oct
27
2014
Halloween Harvest: Get down and dirty with the UIC Heritage Garden!
October 27, 2014
1:00 PM - 3:00 PM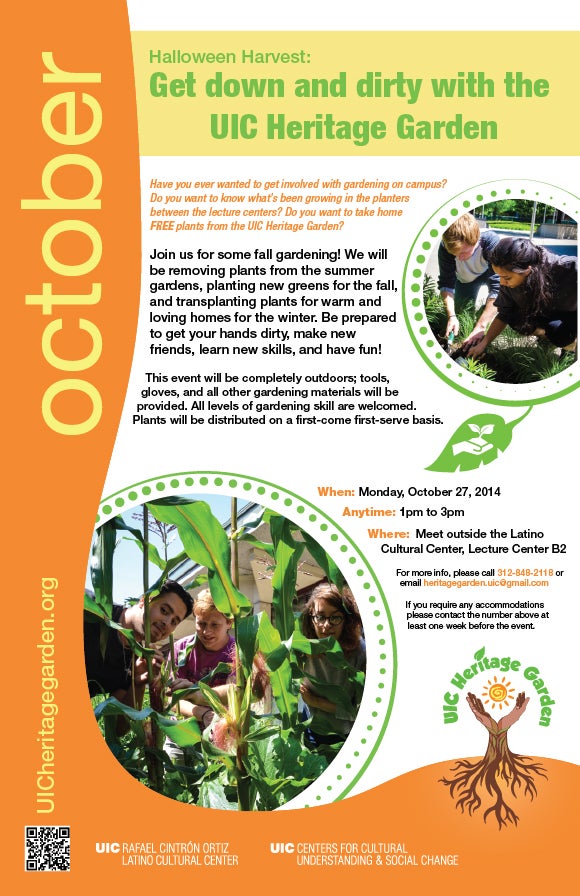 Presented by: UIC Heritage Garden Student Group
Have you ever wanted to get involved with gardening on campus?
Do you want to know what's been growing in the planters between the lecture centers?
Do you want to take home free plants from the UIC Heritage Garden?
Join us for some fall gardening! We will be removing plants from the summer gardens, planting new greens for the fall, and transplanting plants for warm and loving homes for the winter. Be prepared to get your hands dirty, make new friends, learn new skills, and have fun!
This event will be completely outdoors; tools, gloves, and all other gardening materials will be provided. All levels of gardening skill are welcomed. Plants will be distributed on a first-come first-serve basis.
If you require any accommodations please contact the number above at least one week before the event.
Poster: Halloween Harvest: Get down and dirty with the UIC Heritage Garden! [PDF]
Admissions: Free
Location: 803 S. Morgan St. LCB2 Chicago, IL 60607
Co-sponsors: UIC Latino Cultural Center and the Centers for Cultural Understanding and Social Change
Date updated
Jun 26, 2018