Oct
10
Harvest Fest: The Seeds of Social Change
October 10, 2017
3:30 PM - 5:00 PM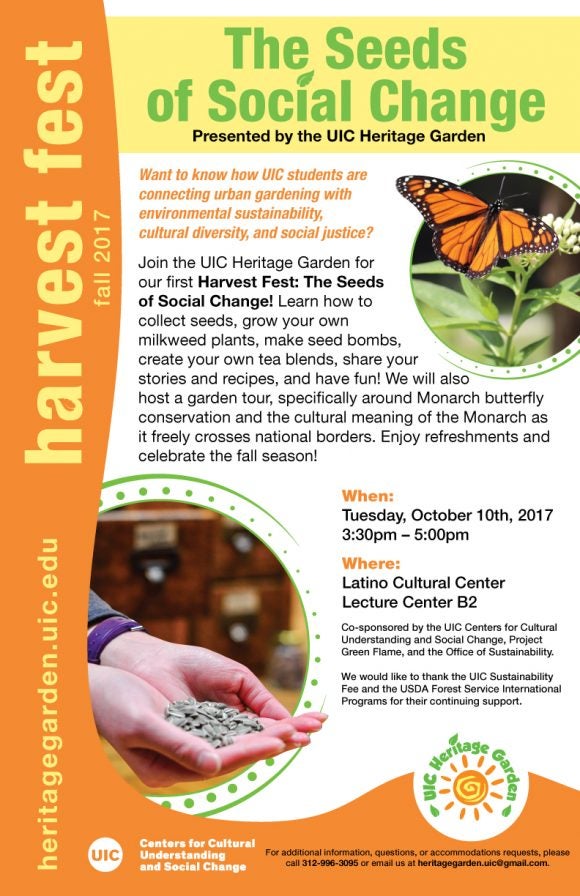 Presented by: UIC Heritage Garden
Want to know how UIC students are connecting urban gardening with environmental sustainability, cultural diversity, and social justice?
Join the UIC Heritage Garden for our first Harvest Fest: The Seeds of Social Change! Learn how to collect seeds, grow your own milkweed plants, make seed bombs, create your own tea blends, share your stories & recipes, and have fun! We will also host a garden tour, specifically around Monarch butterfly conservation and the cultural meaning of the butterfly as it freely crosses national borders. Enjoy refreshments and celebrate the fall season!
We would like to thank the UIC Sustainability Fee and the USDA Forest Services International Programs for their continuing support.
For additional information, questions, or accommodations requests, please call the number below or email us at heritagegarden.uic@gmail.com.
Poster: Harvest Fest: The Seeds of Social Change [PDF]
Admissions: Free
Location: 803 S. Morgan St. LCB2 Chicago, IL 60607
Co-sponsors: UIC Centers for Cultural Understanding and Social Change, Project Green Flame, Office of Sustainability
Contact
Rosa Cabrera
3129963095
Date updated
Jun 26, 2018