Oct
8
2014
Home Grown Herbs: A Hands-on Harvesting Workshop
October 8, 2014
12:00 PM - 1:00 PM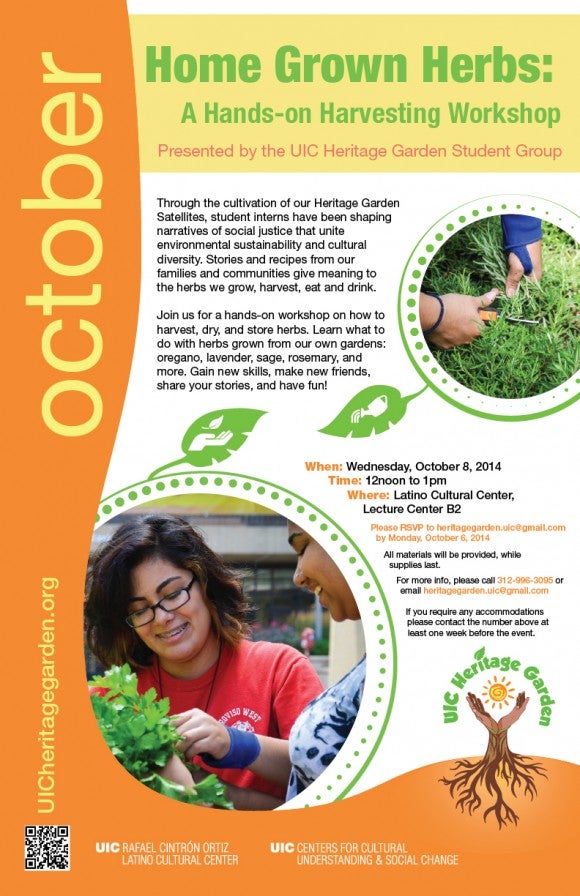 Presented by: UIC Heritage Garden Student Group
Through the cultivation of our Heritage Garden Satellites, student interns have been shaping narratives of social justice that unite environmental sustainability and cultural diversity. Stories and recipes from our families and communities give meaning to the herbs we grow, harvest, eat and drink. Join us for a hands-on workshop on how to harvest, dry, and store herbs. Learn what to do with herbs grown from our own gardens: oregano, lavender, sage, rosemary, and more. Gain new skills, make new friends, share your stories, and have fun!
RSVP to heritagegarden.uic@gmail.com by Monday, October 6, 2014
All materials will be provided, while supplies last.
If you require any accommodations please contact the number above at least one week before the event.
Poster: Home Grown Herbs: A Hands-on Harvesting Workshop [PDF]
Admissions: Free
Location: 803 S. Morgan St. LCB2 Chicago, IL 60607
Co-sponsors: UIC Latino Cultural Center and the Centers for Cultural Understanding and Social Change
Date updated
Jun 26, 2018