Apr
26
Know Your Rights & Your Power
April 26, 2017
3:00 PM - 5:00 PM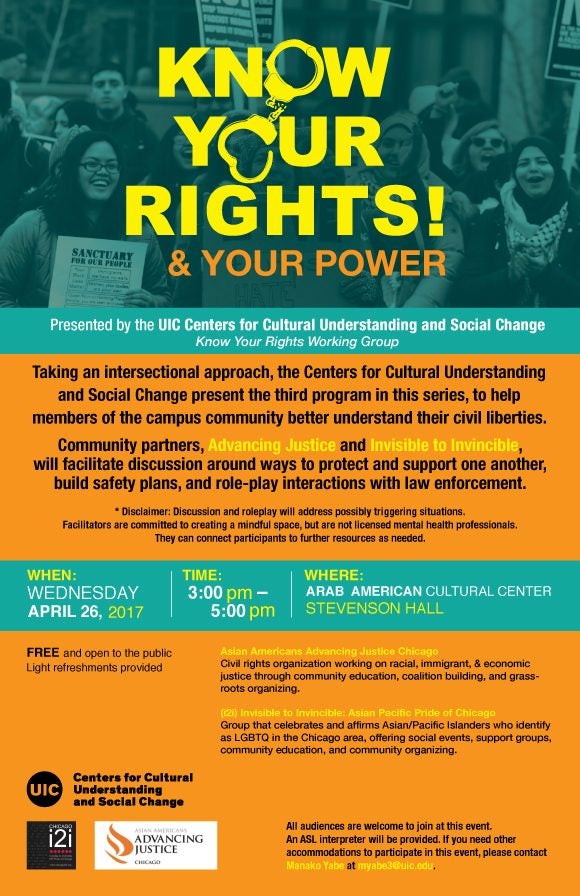 Presented by: UIC Centers for Cultural Understanding and Social Change Know Your Rights Working Group
Taking an intersectional approach, the Centers for Cultural Understanding and Social Change present the third program in this series, to help members of the campus community better understand their civil liberties.
Community partners, Advancing Justice and Invisible to Invincible, will facilitate discussion around ways to protect and support each other, build safety plans, and role-playing interactions with law enforcement.
* Disclaimer: Discussion and roleplay will address possibly triggering situations. Facilitators are committed to creating a mindful space, but are not licensed mental health professionals. They can connect participants to further resources as needed.
Asian Americans Advancing Justice Chicago – civil rights organization working on racial, immigrant, & economic justice through community education, coalition building, advocacy, & grassroots organizing.
(i2i) Invisible to Invincible: Asian Pacific Pride of Chicago – We celebrate & affirm Asian/Pacific Islanders who identify as LGBTQ in the Chicago area, offering social events, support groups, community education, and community organizing.
All audiences are welcome to join at this event. An ASL interpreter will be provided. If you need other accommodations to participate in this event, please contact Manako Yabe atmyabe3@uic.edu.
Poster: Know Your Rights & Your Power [PDF]
Admissions: Free
Location: 803 S. Morgan St. LCB2 Chicago, IL 60607
Contact
Lena G. Reynolds
3129963095
Date updated
Jul 17, 2018