Feb
3
2016
Mobilizing with Art for Social Transformation
February 3 - 19, 2016
9:00 AM - 5:00 PM
Artist in Residence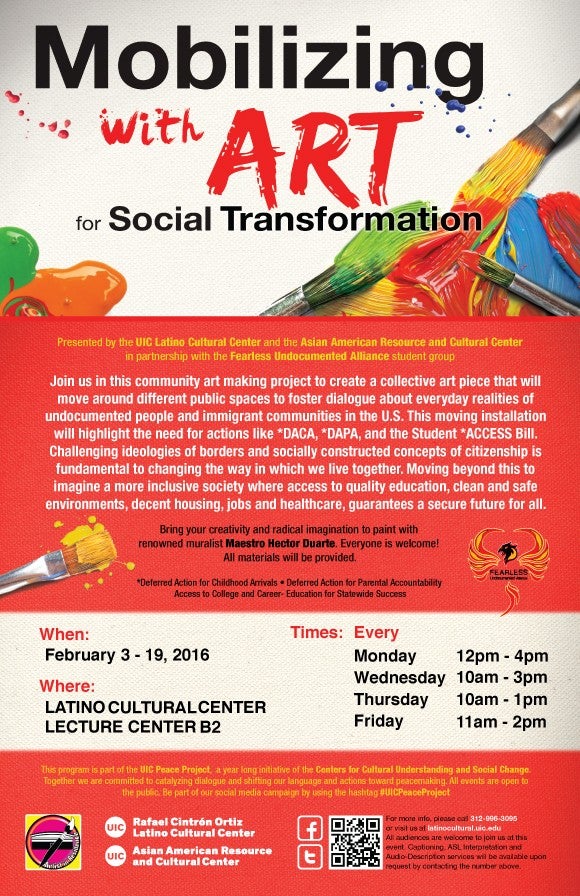 Presented by: UIC Latino Cultural Center and the Asian American Resource and Cultural Center in partnership with the Fearless Undocumented Alliance student group
Join us in this community art making project to create a collective art piece that will move around different public spaces to foster dialogue about everyday realities of undocumented people and immigrant communities in the U.S. This moving installation will highlight the need for actions like *DACA, *DAPA, and the Student *ACCESS Bill. Challenging ideologies of borders and socially constructed concepts of citizenship is fundamental to changing the way in which we live together. Moving beyond this to imagine a more inclusive society where access to quality education, clean and safe environments, decent housing, jobs and healthcare, guarantees a secure future for all.
Bring your creativity and radical imagination to paint with renowned muralist Maestro Hector Duarte. Everyone is welcome! All materials will be provided.
*Deferred Action for Childhood Arrivals •  Deferred Action for Parental Accountability • Access to College and Career-Education for Statewide Success
WHEN: FEBRUARY 3 – 19, 2016 • TIMES: EVERY
Monday 12pm-4pm
Wednesday 10am-3pm
Thursday 10am- 1pm
Friday 11am-2pm
This program is part of the UIC Peace Project,  a year long initiative of the Centers for Cultural Understanding and Social Change. Together we are committed to catalyzing dialogue and shifting our language and actions toward peacemaking. All events are open to the public. Be part of our social media campaign by using the hashtag #UICPeaceProject
All audiences are welcome to join us at this event. Captioning, ASL Interpretation and Audio-Description services will be available upon request by contacting us.
Poster: Mobilizing with Art for Social Transformation [PDF]
Admissions: Free
Location: 803 S. Morgan St. LCB2 Chicago, IL 60607
Date updated
Jun 26, 2018