Jan
20
Open House – Spring 2016
January 20, 2016
12:00 PM - 3:00 PM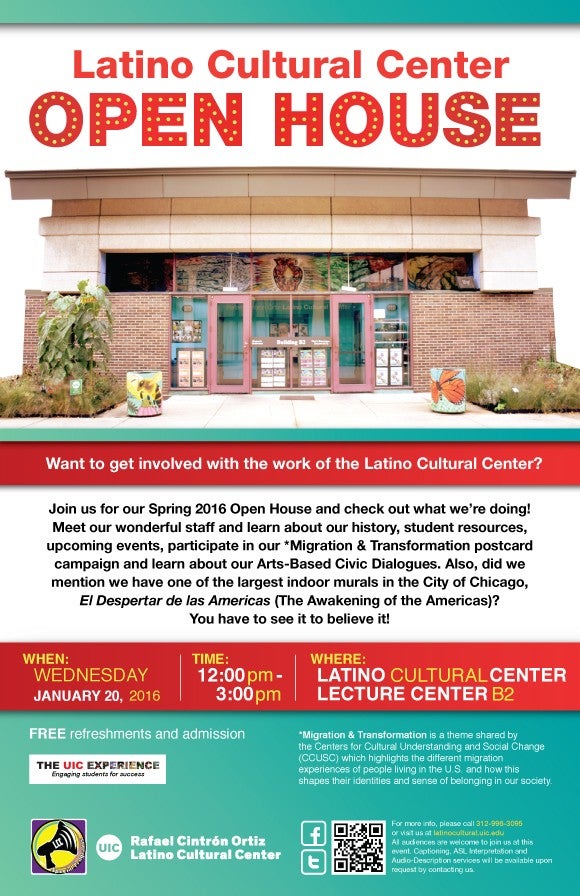 Presented by: UIC Latino Cultural Center
Want to get involved with the work of the Latino Cultural Center?
Join us for our Spring 2016 Open House and check out what we're doing! Meet our wonderful staff and learn about our history, student resources, upcoming events, participate in our *Migration & Transformation postcard campaign and learn about our Arts-Based Civic Dialogues. Also, did we mention we have one of the largest indoor murals in the City of Chicago, El Despertar de las Americas (The Awakening of the Americas)? You have to see it to believe it!
*Migration & Transformation is a theme shared by the Centers for Cultural Understanding and Social Change (CCUSC) which highlights the different migration experiences of people living in the U.S. and how this shapes their identities and sense of belonging in our society.
The UIC Experience is a collection of co-curricular opportunities that enhances students learning and development as tomorrow's global leaders by reinforcing three key areas:
Urban Exploration
Inquiring Minds
Community
All audiences are welcome to join us at this event. Captioning, ASL Interpretation and Audio-Description services will be available upon request by contacting us.
Poster: Open House – Spring 2016 [PDF]
Admissions: Free
Location: 803 S. Morgan St. LCB2 Chicago, IL 60607
Contact
Mario Lucero
3129963095
Date updated
Jul 16, 2018