Nov
7
2018
Volunteer Days at the UIC Heritage Garden – Fall 2018
November 7, 2018
12:00 PM - 2:00 PM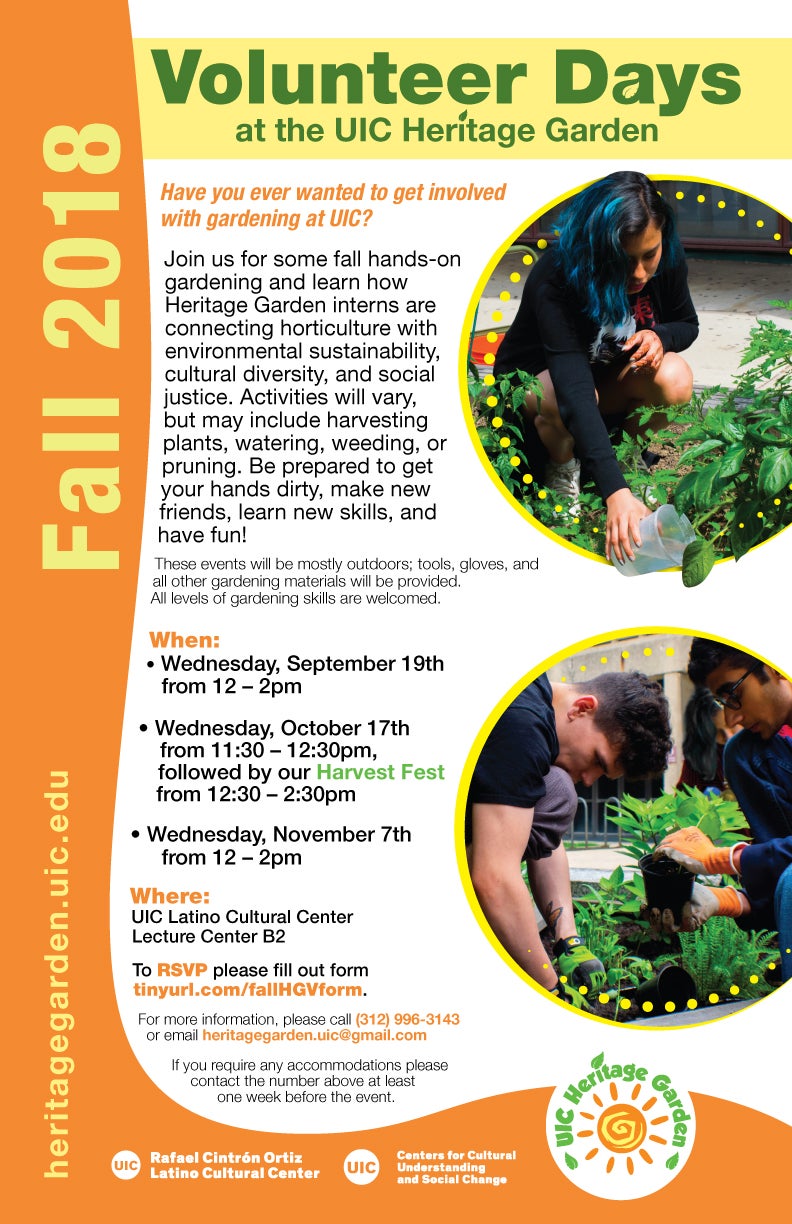 Have you ever wanted to get involved with gardening at UIC?
Join us for some fall hands-on gardening and learn how Heritage Garden interns are connecting horticulture with environmental sustainability, cultural diversity, and social justice. Activities will vary, but may include harvesting plants, watering, weeding, or pruning. Be prepared to get your hands dirty, make new friends, learn new skills, and have fun!
These events will be completely outdoors; tools, gloves, and all other gardening materials will be provided. All levels of gardening skills are welcomed.
When:
Wednesday, September 19th, 2018 from 12pm-2pm

Wednesday, October 17th, 2018 from 11:30am-12:30pm, followed by our Harvest Fest from 12:30pm-2:30pm

Wednesday, November 7th, 2018 from 12pm-2pm
Where: UIC Latino Cultural Center, Lecture Center B2
[PDF] Volunteer Days Poster - English
[PDF] Días para Voluntarixs - Español
Please fill out the form  to RSVP: https://tinyurl.com/fallHGVform
For more information, please call 312-996-3143, or email heritagegarden.uic@gmail.com.
If you require any accommodations please contact the number above at least one week before the event.
Date updated
Sep 24, 2018