Mar
30
Women's Rights in Challenging Times
March 30, 2017
12:00 PM - 1:00 PM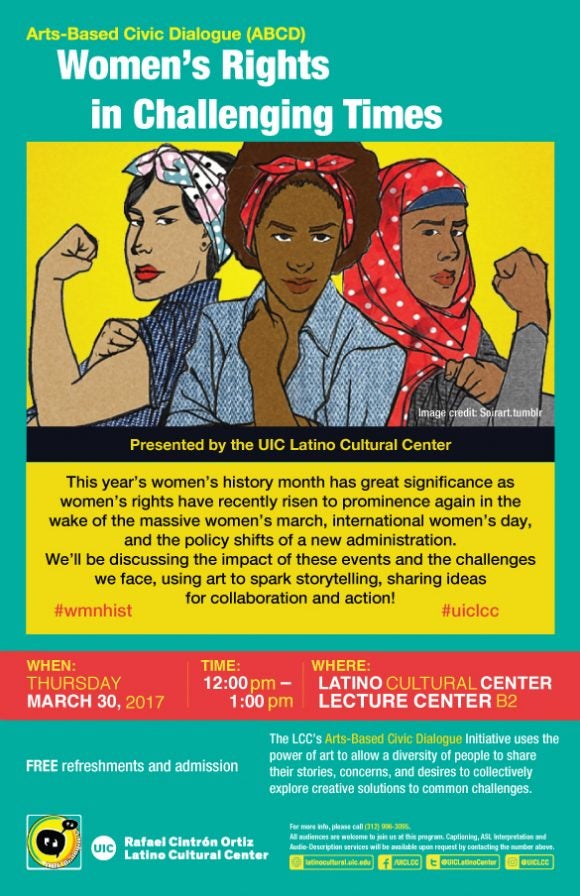 Presented by: UIC Latino Cultural Center
This year's women's history month has great significance as women's rights have recently risen to prominence again in the wake of the massive women's march, international women's day, and the policy shifts of a new administration. We'll be discussing the impact of these events and the challenges we face, using art to spark storytelling, sharing ideas for collaboration and action!
#wmnhist #uiclcc
The LCC's Arts-Based Civic Dialogue Initiative uses the power of art to allow a diversity of people to share their stories, concerns, and desires to collectively explore creative solutions to common challenges.
All audiences are welcome to join us at this event. Captioning, ASL interpretation, and Audio-Description services will be available upon request by contacting us.
Poster: ABCD_Women's Rights in Challenging Times [PDF]
Admissions: Free
Location: 803 S. Morgan St. LCB2 Chicago, IL 60607
Contact
Lena G. Reynolds
3129963095
Date updated
Jul 23, 2018