Oct
16
2018
Zona Abierta: Erase the Gang Database
October 16, 2018
3:30 PM - 5:00 PM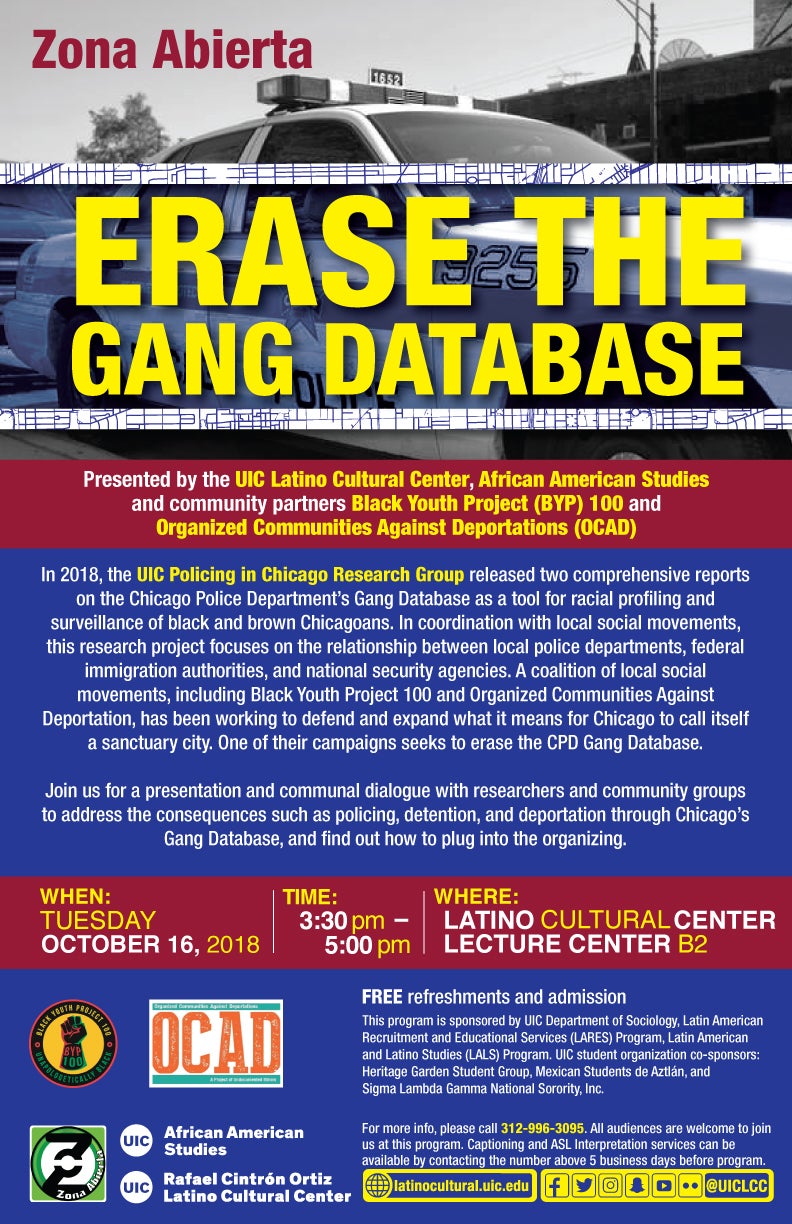 Presented by the UIC Latino Cultural Center, African American Studies and community partners Black Youth Project (BYP) 100 and Organized Communities Against Deportations (OCAD)
In 2018, the UIC Policing in Chicago Research Group released two comprehensive reports on the Chicago Police Department's Gang Database as a tool for racial profiling and surveillance of black and brown Chicagoans. In coordination with local social movements, this research project focuses on the relationship between local police departments, federal immigration authorities, and national security agencies. A coalition of local social movements, including Black Youth Project 100 and Organized Communities Against Deportation, has been working to defend and expand what it means for Chicago to call itself a sanctuary city. One of their campaigns seeks to erase the CPD Gang Database.
Join us for a presentation and communal dialogue with researchers and community groups to address the consequences of pressing issues such as policing, detention, and deportation through Chicago's Gang Database, and find out how to plug into the organizing.
This program is sponsored by UIC Department of Sociology, Latin American Recruitment and Educational Services (LARES) Program, Latin American and Latino Studies (LALS) Program. UIC student organization co-sponsors: Heritage Garden Student Group, Mexican Students de Aztlán, and Sigma Lambda Gamma National Sorority, Inc.
When: Tuesday, October 16, 2018
Time: 3:30pm to 5:00pm
Where: LCC - Lecture Center B2
FREE refreshments and admission
[PDF] Erase the Gang database Poster
For more info, please call 312-996-3095.
All audiences are welcome to join us at this program. Captioning and ASL Interpretation services can be available by contacting the number above 5 business days before program.