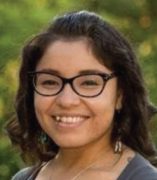 Nancy M. Ramirez Blancas
Intern
Spring 2020 – Fall 2020
About
She / Her / Hers
Nancy M. Ramirez Blancas was born in México and has been an intern at the Rafael Cintrón Ortiz Latino Cultural Center since the beginning of the Spring semester 2020. She is a DACA recipient and is currently focused on completing her Psychology degree with a Pre-law focus. Most of her work focuses on U.S. immigration politics and immigrant rights. Her achievements led her to be recognized by Senator Scott Bennett with a 2017 Immigrant Welcome Award for Student Leadership.
She has collaborated and worked alongside The Latino Cultural Center in Urbana-Champaign, student organization I-CAUSE (Illinois-Coalition Assisting Undocumented Students' Education), Reclaim Chicago, Chicago Burds for Justice, and many others.
As a twice award-winning leader and co-founder of I-CAUSE she is currently involved in service and with advocacy organizations that work in solidarity with the undocumented community, focusing primarily on equal secondary educational opportunities for all students. She has worked hard to educate University students, staff, and community members about issues of immigration such as DACA/undocumented students, and educational access.
She looks forward to graduating this fall 2020. She is considering going to law school and begin a prosperous law career.