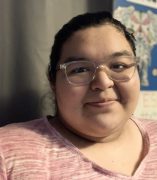 Yesenia Garcia
Intern
Fall 2020 – Spring 2021
About
She / Her / Hers
Yesenia Garcia is a first year Public Policy student at UIC and has worked most of her life in the STEM field. She enjoys advocating for others and making sure that youth are exposed to as many opportunities to succeed in the future. Her passion is teaching and educating others about the LGBTQIA+ and minority communities. She hopes to make a difference in her community by advocating for those who have gone voiceless.
Outside of her classes, Yesenia is a musician and enjoys listening to jazz. Throughout her years, she has learned how to play both saxophone and flute. She was able to participate in competitions with her high school band. She hopes for communities to come together through music and make a difference in today's society.
Yesenia is excited to work with the LCC to combine her experiences growing up in the West Lawn neighborhood and her community organizing.