Lead. Create. Change. Internship Program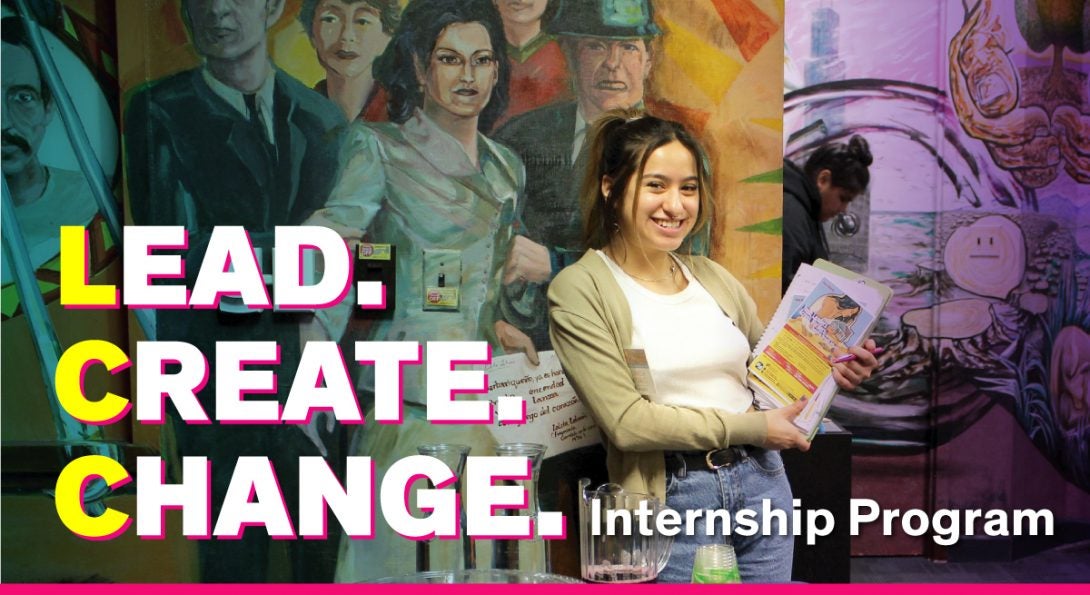 The Latino Cultural Center (LCC)'s Lead. Create. Change. Internship Program is designed to expand students' academic and professional growth through project-based assignments and work-based learning with a focus on environmental and social justice.
The internship will be a year-long hybrid model, virtual and in-person, for the Fall 2021 and Spring 2022 semesters.
By participating in a year-long internship, our LCC interns build skills that can transfer to their future work culture while exploring their own identities. Through this internship commitment, students expand their capacity in the areas of: group collaboration, public speaking, collecting oral histories,  and creating relevant solutions to community needs.
Interns dedicate 10 hours per week for 12 weeks per semester. Interns can receive compensation and/or academic credit. UIC students with a Freshman - Junior academic standing preferred.
Federal Work Study and DACA students are encouraged to apply.
We hope students can take advantage of this unique and successful program!
Latinx Foodways: Stories and Recipes Linking Social and Environmental Justice Project
The Fall 2021-Spring 2022 internship cohort is focused on the Latinx Foodways: Stories and Recipes Linking Social and Environmental Justice Project, which is an extension of the Climates of Inequality: Stories of Environmental Justice exhibition created in 2018 by the UIC Latino Cultural Center in partnership with the Humanities Action Lab (HAL).
The primary goal of Latinx Foodways oral history project is to collect stories and recipes from community members to tease out the relationship between environmental/climate justice with food traditions & cultural identity, land & food justice, im/migration, labor, health & COVID-19.
Using the recipes and stories collected, the LCC interns will focus on creating a Latinx Foodways Recipes & Stories book to present to our community partners, LVEJO and Alianza America, in Spring 2022.
Visual and Storytelling Ethnography of COVID-19 Mapping Project in Latinx Communities
The goal of this project was for student interns to create an Archive with oral histories and narratives, sounds, and ephemeral materials from Latinx communities in relation to the Climates of Inequality exhibition. Student interns, with the help of our community partner, Little Village Environmental Justice Organization (LVEJO), harnessed local knowledge to answer the following question: How is COVID-19 affecting Latinx communities in the Chicagoland area and how is this intersecting with environmental pollution in their neighborhoods?