Section 3: Chocolate in Chicago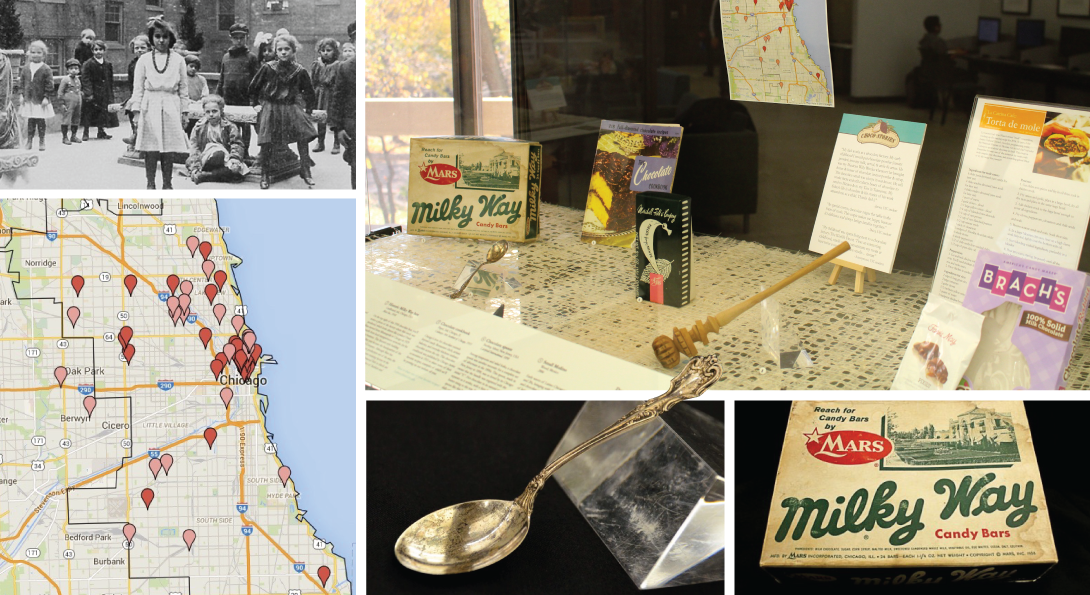 This section explores local roots in chocolate history. As we've seen in other sections of this exhibit, chocolate is grown in tropical countries where the early processing begins. After that, it's often shipped to urban industrial factories, where the raw materials are turned into candy bars and other products. Chicago became the candy capital of the US in the 20th century, producing more than double the next national competitor, and employing thousands of Chicagoans. This industry established some of the famous brands and recipes we know and love. From the rainforest ecosystem to the local growers, shippers, and manufacturers, just think how much goes into every candy bar in your piñata!
Map of Chicago's chocolate production
Paper, Ink; Chicago, USA
Lena G. Reynolds & Google Maps, 2015

Did you know Chicago was once the candy capital of the U.S.? Local chocolate production started the same year the city was founded in 1837, and peaked in the 1960s, producing more than double the next national competitor, New York. Over 100 companies employed more than 25,000 Chicagoans producing sweet treats sent across the country. Some of these famous brands include Tootsie Rolls, Milky Way, M&Ms, Whoppers, Baby Ruth, Frango, and Fannie May. Although much of this industry has dispersed in the last few decades, there are still thousands working at local candy businesses like Blommers, World's Finest, and Margie's Candies. By giving these local companies your business, you can help support local candy producers and the Chicagoans they employ. This is important because most of the chocolate we consume isn't local, fair trade, or organic. If you have a favorite candy company, encourage them to become more culturally and environmentally sustainable!

Do you know someone who works in the candy industry?

Tell us using #chocostorylcc or submit a story on our home page

Explore the full digital map here to find your next favorite chocolatier!

Children in Hull-House Courtyard
Photograph; Chicago, USA
UIC Hull-House Yearbook collection, 1895

"Our very first Christmas at Hull-House, when we as yet knew nothing of child labor, a number of little girls refused the candy which was offered them as part of the Christmas good cheer, saying simply that they "worked in a candy factory and could not bear the sight of it." We discovered that for six weeks they had worked from seven in the morning until nine at night, and were exhausted as well as satiated. The sharp consciousness of stern economic conditions was thus thrust upon us in the midst of the season of good will."

– Jane Addams, 20 Years at Hull-House, 1910

Today, UIC stands in a neighborhood that was once dense with industrial factories, sweatshops, and tenement housing. Many children never attended school, but rather worked to support their families. Hull-House advocates like Jane Addams and others made great strides to limit child labor, improve local working conditions, and increase access to education and recreation. Despite this progress, these issues remain relevant in Chicago and around the world.

Was child labor involved with producing your holiday candy?

Learn more about this issue today, or tell us what you think on our home page

Historic Milky Way box
Cardboard, ink; Chicago, USA
1958

On the top right of this 1955 chocolate box, you'll notice a photo of the factory where this candy was produced, which looks almost like a palace! Frank Mars moved from Minneapolis to Chicago in 1929 to benefit from local transportation networks for his booming business. This Spanish-style building completed that year became the headquarters of the Mars Chocolate Company. Although Mars has moved most of their production out of the area, the building is still the longest-running factory in the company. Head out to Elmwood Park to check out this Chicago icon: the birthplace of Snickers and Three Musketeers.

Find this factory and others on our digital map here

Chocolate cookbook
Paper, Ink; Chicago, IL
Culinary Arts Institute of Chicago, 1955

Chicago's love for chocolate extends beyond candy. Restaurant chefs, artisan bakeries, and everyday kitchens embrace chocolate across the city. This chocolate cookbook was published by Chicago home economists in 1955 to share some of their favorite recipes, examples of which we'll be posting on our website all year.

Want to share one of your favorite recipes?

Share with us at #chocostorylcc or submit a story or recipe on our home page

Chocolate spoon
Sterling Silver; New Jersey, USA
Litchfield International, 1898

Among teaspoons and salad forks, a chocolate spoon was another necessity for a complete set of silverware in the 1890s. This spoon, made in New Jersey in 1898, was so loved by its Chicago owner that the handle was engraved with the initial "E". Hot chocolate in its natural state will separate as it settles, with a fatty layer of cocoa butter rising to the top. For many consumers, a spoon like this became the norm for stirring a daily cup of cocoa. In the mid-1800s, the Dutch invented a way of processing chocolate that kept it from separating, which eventually became the standard.

Molinillo
Wood; Mexico
2006

Dancing the Jarabe Tapatio
Photograph; Chicago, USA
UIC Hull-House Yearbook collection, 1930s

Early waves of Latino Chicagoans arrived in the 1910s and 20s, bringing with them different cultural practices and chocolate recipes! The 1930s and 40s saw new waves of Latino immigration, drawn by jobs like chocolate production. By the 1950s, the neighborhood around Halsted and Polk streets was the heart of Mexican Chicago. When the University took over in the 1960s, much of the community moved southwest to Pilsen and La Villita, but symbols from the old neighborhood remain, like St. Francis Church on Roosevelt or Cordi Marian Settlement on May Street. This chocolate stirrer (molinillo) could have been purchased at the nearby multicultural Maxwell Street market, alongside other chocolate utensils.

Frango Mint chocolate box
Cardboard, paper, ink; Chicago, USA
Marshall Fields, 1960s

When Chicago's famous downtown department store Marshall Field's expanded their building in 1907, they established a lavish confectionary department, and Frango mint chocolates were born! Frango mints were made right inside the department store on State Street and were shipped across the country, in boxes much like this one from the 1960s. In the 1990s, the company made the controversial move to pull production of the chocolates out of the city. When Field's sold to Macy's in 2006, the company promised to restore this candy connection, and they brought some production back to the region.

Brach's Chocolate Easter Bunny Box
Cardboard, ink; Chicago, USA
Ferrara Pan Candy Company, 2015

Fannie May Pixie package
Plastic; Ohio, USA
Fannie May, 2015

Hot Chocolate Run Route
Chicago, 2012

Many companies have roots near today's UIC campus. Fannie May was founded in 1920, and quickly grew to have 47 locations by 1935. The Fannie May factory was just north of the highway at Jackson and Racine Streets until 2004 when they moved production to Ohio. Brach's is part of the Ferrara Pan Candy Company, founded by Italian immigrant Salvatore Ferrara in 1908. The original manufacturing facility was near UIC's west campus at 220 W. Taylor Street. They moved production west to Forest Park in 1919, where all sorts of candy is still produced today. The yearly hot chocolate run also runs right past the UIC campus!