Support DACA/TPS Postcards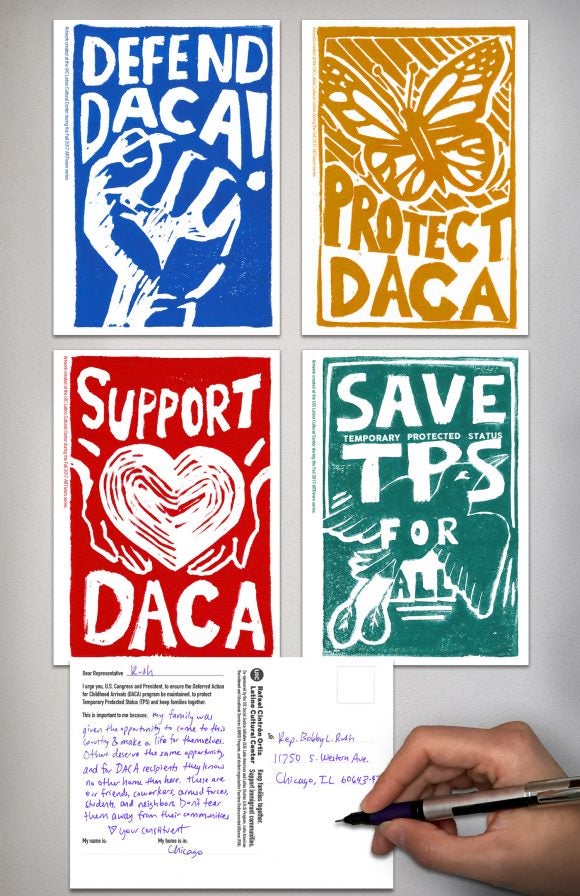 In the Fall of 2017, LCC students, staff, and community were invited to create political artwork as part of our ARTivism workshop, led by artist Eric J. Garcia. Several people created pieces to show support for immigrant communities, which sparked the idea for an urgent postcard campaign, in response to the current political climate. Check out the cards below to print your own, or stop by the LCC or one of our partner organizations to pick up a postcard in person. Thanks to the UIC Social Justice Initiative (SJI), the Latin American and Latino Studies (LALS) Program, the Latin American Recruitment and Educational Services (LARES) Program, and student organization Fearless Undocumented Alliance (FUA).
What type of file is best for your printer?
Whole page = click to download a pdf file with the postcard's front and back on the same page, for easy home printing/folding. Click "back" on your browser after you've downloaded the file to return to this page.
Front pdf or jpg = click to download a pdf file or jpeg with just the postcard image. Pair this with the pdf or jpeg file of the back side for professional printing.
Click here to find US congressional representatives
What is DACA? In response to vibrant community activism, on June 15, 2012, the Secretary of Homeland Security announced that certain people who came to the United States as children and met several guidelines might request consideration of deferred action for a period of two years, subject to renewal. This also made them eligible for work authorization. Deferred action is a use of prosecutorial discretion to defer removal action against an individual for a certain period of time. Deferred action does not provide lawful status, and its limited scope was less than activists initially envisioned, but it provided a form of protection for around 800,000 people. On September 5, 2017, the memorandum was rescinded, and new applications are not being accepted. Current DACA recipients remain in limbo, as their protection will expire on a rolling basis unless Congress can pass a legislative solution by March 5, 2018.
What is TPS? As part of the Immigration Act of 1990, Congress established a procedure by which the Attorney General may provide Temporary Protected Status to immigrants in the United States who are unable to safely return to their home country because of ongoing armed conflict, an environmental disaster, or other extraordinary and temporary conditions. During the period for which a country has been designated, TPS beneficiaries may remain in the United States and obtain work authorization. However, TPS does not lead to permanent resident status (green card). As of October 2017, the authority to designate a country for TPS rests with the Secretary of Homeland Security. Countries that are currently under TPS include El Salvador, Haiti, Honduras, Nicaragua, Somalia, South Sudan, Sudan, Syria, Nepal, and Yemen. According to recent announcements, the status is set to expire in a matter of months for immigrants from Haiti, Nicaragua, and Honduras.