Social & Environmental Pollinators – 10 artists, Fall 2016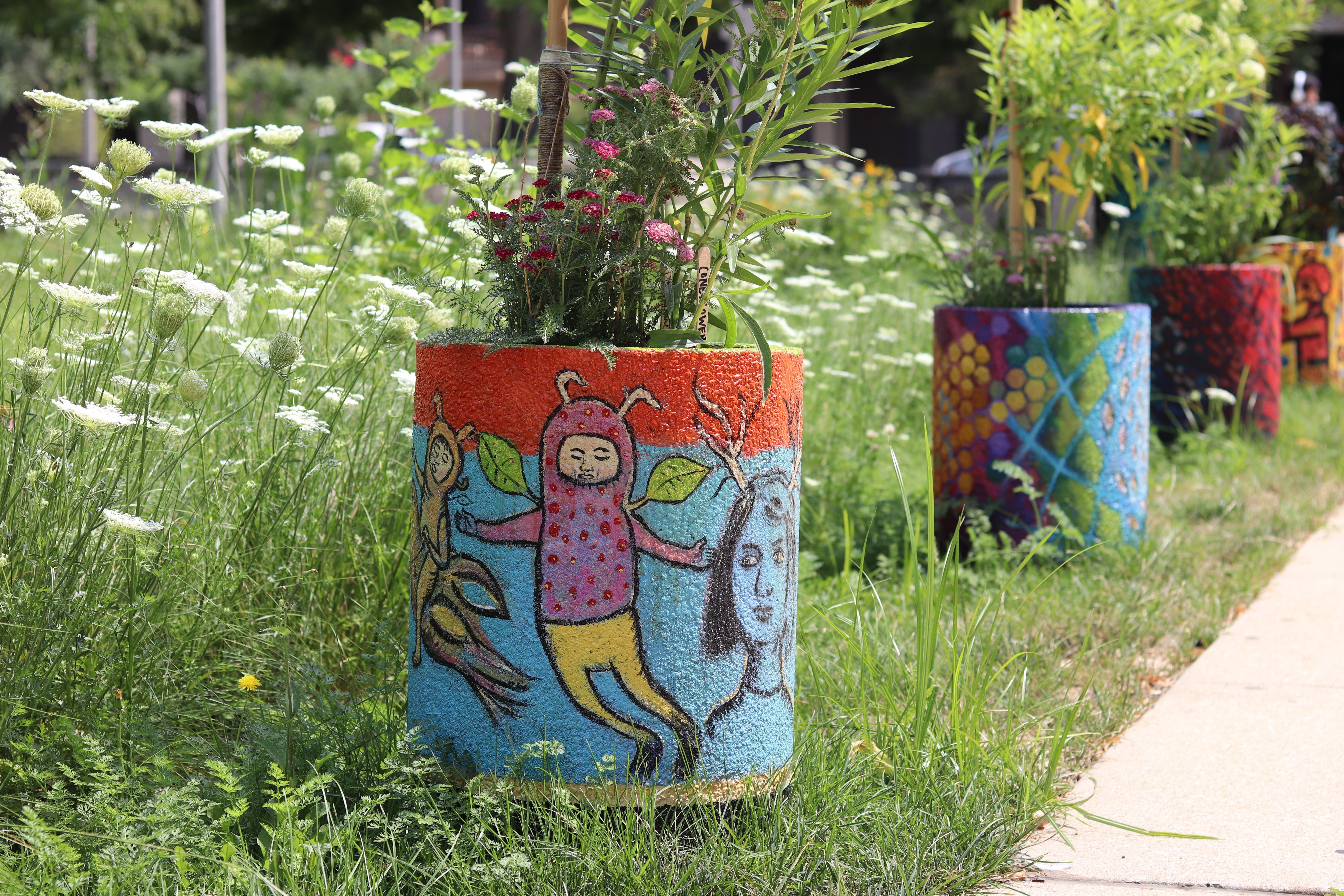 The Social and Environmental Pollinators project was inspired by the UIC Latino Cultural Center's work with environmental and artistic issues over the years, as a creative way to celebrate the center's 40th anniversary, and funded by a grant from the Chicago Community Trust and the USDA Forest Service International Programs. As the campus phased out cigarette use, LCC director Rosa Cabrera saw an opportunity to repurpose the old ashtray urns. Working with artist and project curator Sam Kirk, ten urns were assigned to ten local Latinx artists to paint unique pieces in their own interpretation of "social pollinators" and animal pollinators. The urns were placed in the nearby bioswale, a natural area planted with native plants that attracts pollinators.
The Latino Cultural Center conceptualizes artists as social pollinators, because they help to share ideas and spark the seeds of change as active cultural workers, addressing important community challenges through community practices. Equally, animal pollinators, the vast majority of which are insects and birds, are vital to our food chain. This includes butterflies, bees, ants, beetles, wasps, moths, hummingbirds, and bats – the only mammals that can fly! The metaphor in this connection is that both animal pollinators and artists need to be protected and nourished because without animal pollinators, humans would not have much to eat, and without arts and cultural resources, the world will lose the most influential source of creativity needed to solve common challenges and enrich our lives.
To engage with these new artistic installations, tours of the LCC Gallery and the UIC Heritage Garden will encompass a visit to the pollinator urns as well, offered Spring, Summer, and Fall each year. The pollinators project provides a clear link to the Heritage Garden's Monarch Habitat Satellite garden, and the LCC's Historias Monarca project. The latter is an initiative to engage families to share their connections with the natural environment, including stories and best practices adapted from their homelands or learned in Chicago, which can help conserve and create Monarch habitats in the Midwest and Mexico. Check out more stories, resources, and images below: