Environmental Justice for Puerto Rico – Richard Santiago, Spring 2017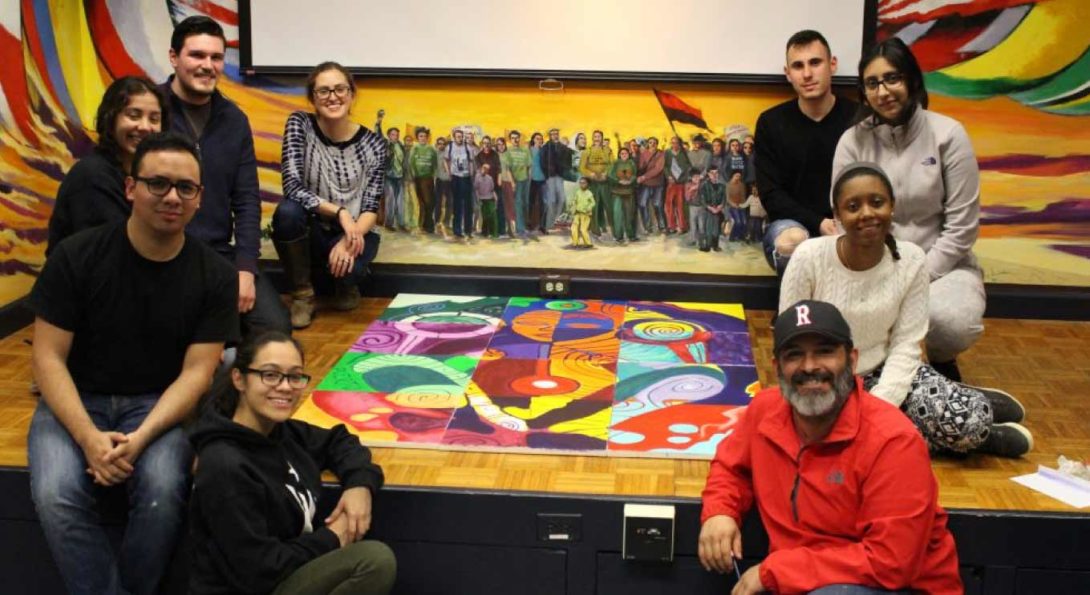 On April 17, 2018, Puerto Rican artist Richard Santiago led a workshop with UIC students and community to paint a series of canvases. Each individual piece had an abstract look on its own, with bright colors, swirls, and moving lines. However, together they formed a cohesive image of the indigenous Taíno Earth Mother deity, Atabey. The pieces were painted by many students working together, representing solidarity in the struggle for environmental justice.
LCC staff made the whole image into a postcard, so students can write messages to politicians and community leaders and advocate for Puerto Ricans as they rebuild from Hurricane Maria. The individual paintings were then put on sale through a silent auction on Friday April 20th as part of the Pa'Lante conference hosted by the Union for Puerto Rican Students and the Social Justice Initiative. The funds (nearly $2000!) from this initiative went to support rebuilding the School of Visual Arts and Design of Puerto Rico.
This program was part of the LCC's Earth Week, cosponsored by the UIC Freshwater Lab, the Native American Support Program (NASP), the Latin American and Latino Studies Program (LALS), the Office of Sustainability, the Richard J. Daley Library, the Social Justice Initiative (SJI), and student organizations: Heritage Garden Student Group, Jane Addams Advocacy Initiative, the Union for Puerto Rican Students (UPRS), and the Latino Planning Organization for Development Education and Regeneration (LPODER).